This week's Revenge took dynamic duos to a whole new level. "Treachery" further hinted at what I'd already suspected, that Amanda Clarke could mean the unraveling of Emily's plan to take down her enemies.
But before we look at the twisted sisterhood between Emily and Amanda, we'll run down the rest of the thorns in Emily's side.
Lydia's awake. Awake, talking, and looking damn good for someone who fell off a five story building. It appears the only thing injured was her memory. She didn't remember anything from the weeks before her fall but she certainly looked ticked off.  Imagine what she'll look like when it all comes back to her.
Victoria took the lesson about keeping her enemies close seriously as she moved Lydia into Casa Grayson. Of course, she kicked Conrad out and he could be equally as dangerous, although they hold so much information over each other I doubt she or Conrad could ever use any of it.
The prodigal son returns. Daniel felt bad for Daddy and decided to come back to the fold which was unfortunate for Tyler. He knew he'd be playing second fiddle to a real Grayson from here on out and he wasn't happy about it. I wonder how long it will be before he pulls out that leverage he claims to have.
Tyler was definitely pushing Ashley to team up with him and take down Emily. Ash might come off at Emily's friend but this all may come down to a showdown between the haves and the have nots. Nothing ruins a friendship quite like money.
On a side note, did anyone else notice the way Conrad said "you're a Grayson" to Charlotte. Something about his tone made me think he was trying to convince himself she truly was.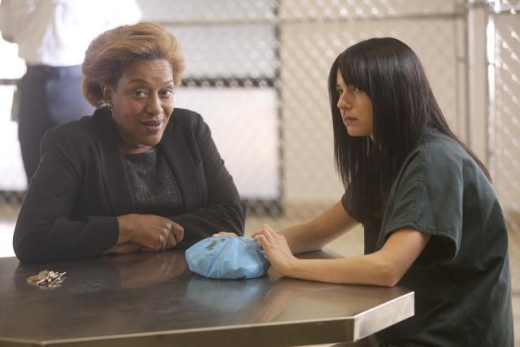 Emily's evil twin. We got a look into how this dynamic duo paired up. That warden certainly mentored Emily in the ways of manipulating someone into making an asset out of an enemy. I thought that Emily's biggest problem was that Amanda's such a wild card. I had no idea just how wild.

It appeared that Amanda could have more than platonic feelings for dear Emily. Whether she wanted her all to herself or simply covets her life, it's a little unclear but Amanda's not going away quietly. Now she's got her sights set on Jack. That made me wonder if this new twist will have something to do with Daniel getting shot.

I did love Nolan this week. It didn't take him long to figure out that Amanda's involved in Frank's death but he's also smart enough not to want to know more. And I like the reconciliation between he and Jack. Nolan could use an actual friend.

Revenge gave us yet another intriguing episode.  Between Victoria's family leaving her one by one and Emily's past coming back to haunt her, I can't wait to see where this story takes us next.

C. Orlando is a TV Fanatic Staff Writer. Follow her on Twitter.

Tags: Revenge, Reviews