One of the reasons I've always loved Dennis, Dee, Mac, Charlie and Frank is because not only can they barely stand each other, but they also usually hate anyone around them. And in "The Anti-Social Network" that behavior boiled over with hilarious results.
Antagonized beyond reason because of the trendiness of secret no-name bars that only serve gin drinks and display bad shushing behavior, the Gang decided to take matters into its own hands.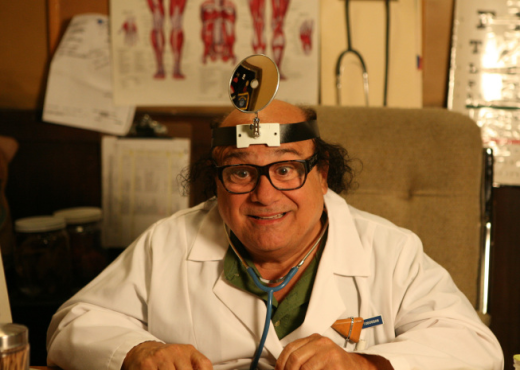 Dee and Mac thought creating an online presence on Facebook could drum up much-needed business for Paddy's. Clueless Frank misunderstood and created a "virus" video while Dennis and Charlie began a mad search for the douchebag who shushed them at the bar.

Charlie's obsession at the thought of a human being being able to blow a sign off a building was complete lunacy. As was Dennis's and Charlie's versions of Dennis being supposedly raped by the Shusher.

But it was the caricature drawing of the Shusher that Dennis started posting everywhere, along with his cell number, that really killed me. A beanie cap? A dune buggy? The doofus buckteeth and expression. Where can I get a copy of that flyer?

The harassing shushing calls that Dennis started to receive made me lose it. So did Dee and Mac's discovery that Dylan Toback was really a lonely, fat, old, black lady who had created countless online personalities for kicks. And for a box of Dee's hair apparently!

The piece de resistance, however, was Dr. Mantis Toboggan, MD (aka Frank) and his "virus" video. Filmed with an ancient video camera held together by duct tape, let's face it. If you ever had seen that video on any Facebook link, you'd be looking for that bar (Paddy's) too. Motley Crue, donkey shows and cake? Sign me up!

And it worked because the infamous Shusher, Dylan Toback, came a-calling. And gave Dennis the satisfaction he so richly deserved. How great was that grin?

Ridiculously funny, craftily-written and the best social commentary yet on the isolating worlds Facebook and Twitter have unwittingly created, Sunny successfully zinged social media in its uniquely warped style.

Now enjoy some Sunny quotes before you tell me to shush the hell up!

Tags: It's Always Sunny in Philadelphia, Reviews
Want more It's Always Sunny in Philadelphia?
Sign up for our daily newsletter and receive the latest tv news delivered to your inbox for free!
From Around the Web
More From TV Fanatic
It's getting crazy on Gang Related! Lines are being crossed by gangsters and officers, is anyone in the right?
On Rookie Blue, Andy assists Sam in a missing persons case. Elsewhere, an undercover operation to track down illegal handguns sends Chris scrambling to maintain control.
Join us for the rewatch of Gossip Girl Season 2 Episode 9 "There Might Be Blood." What did you think of this episode?
Duck Dynasty Season 6 Episode 5 was all about re-branding. Read on for our latest rundown.
---