That was the only appropriate reaction for Sons of Anarchy fans following Tuesday night's "Hands." In the Round Table discussion below, staff members Matt Richenthal, Dan Forcella and Christine Orlando try to take a breath and make sense of it all...
-------------------------------------------
What was your favorite scene from the episode?
Matt: Tara in the hospital. It was absolutely heart-breaking, capped perfectly by Jax being so shaken up when he ran into Eli that he instantly realized this was NOT the time to chat.
Dan: Maybe I'm sick, but my favorite scene was the fight between Clay and Gemma, specifically Clay holding her down, bitch slapping her a number of times, and then punching her square in the face. How evil Clay has become this season is just so intriguing that I just can't get enough. I wanted to look away as he continued to beat on her, but I couldn't. I just couldn't.
Christine: I know it was just a preview of what was to come, but when Clay snarled at Gemma that she needed to remember she was just an old lady, he made me shiver. There was so much venom in his voice. I remember thinking that Gemma needed to keep a gun on her from here on out. I just wish she had aimed it more accurately.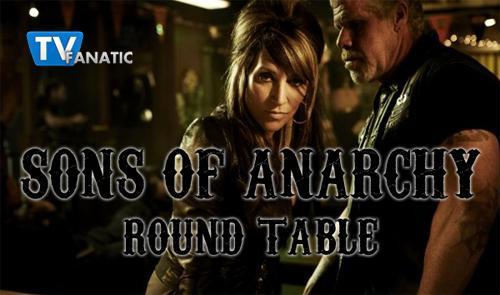 Who do you feel worse for: Gemma, Tara or Opie?
Matt: I can't argue with Tara, but I'll cast a vote for Opie. He lost his wife. He lost his unborn child without even knowing it until later. Now he's about to lose his best friend and he doesn't even know yet that he's lost his father. Did his connection to the club get him into these messes? Yes. But he was raised by a SAMCRO member. He didn't know any better.

Dan: The answer has to be Tara. The other two certainly have it bad, but they have both in some way brought things upon themselves. All Tara did was fall in love with a guy mixed up in all of this business. She was so happy to be getting out, and now with no hand, she will have to rely on the club to survive the rest of her life... exactly the opposite of what she wanted.

Christine: Definitely Tara. She just had the career she's worked her entire adult life for ripped away from her. She loves Jax and they have kids together but her connection to him is going to destroy her.

Most surprising development: Clay beating on Gemma, Eli offering to help Juice or Potter admitting he's a fan of cartoons?
Matt: Are you kidding? Of course Potter is a fan of cartoons. Dude is weird! I can also see Eli feeling guilty over how he treated Juice. But, I don't care how violent we've known Clay to be, when he wheeled back and close-fisted Gemma, the only thing that may have hurt more than her face was my jaw. From hitting the ground in shock.

Dan: Eli helping Juice may not be the most surprising, because the head of the police in Charming has been known to help the Sons every once in a while (see: Unser, Wayne), but it was very interesting. That relationship may have a future, and it may go a long way towards helping protect SAMCRO from the cartoon-loving Potter.

Christine: I've expected Clay and Gemma's violent blow out for a while now. Clay's simply vicious. So Eli offering to help Juice was more surprising. It should be interesting to see where that unlikely partnership might lead.

Will Jax really leave SAMCRO?
Matt: No. He'll end this season deeper than ever before, killing Clay and taking over the Presidency.

Dan: Ever? Yes. This season? No.

Christine: I don't know. I can see him either leaving it eventually or losing everything else in his life and running the club.

Tags: Sons of Anarchy, Round Tables