Whether intentional or not, the theme of this week's episode, "Move Goat," was physicality. Deep in the heart of Africa every aspect to the leg rewarded those who were fit and, most importantly, could make the correct decisions under the stress of exercise. It was awesome.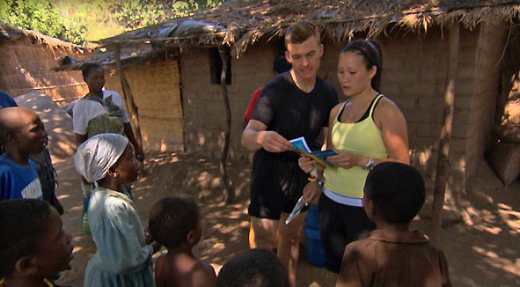 Shortly in to the leg the difficult nature was obvious. The Roadblock had the selected team member transporting a person on a bike with two seats to a destination both difficult to find and of a significant distance away. The distance speaks for itself in the challenge, but by forcing people to stop and ask for directions the challenge became more difficult because they had to keep restarting. 
Next up was Detour where the option was a challenging canoe ride (Dugout) or transporting an obscene amount of cargo off a boat and on to the shore of Lake Malawi (Lugout). The Lugout option seemed so difficult; I wondered why it was included. Who would choose Lugout over Dugout?
It turns out I was both naïve and wrong. The latter came true when Amani and Marcus ripped through the Lugout option and actually passed Jeremy and Sandy who were struggled with the canoe. However, I think the main reason Lugout was a Detour option was because of the Double U-Turn.
The Double U-Turn would become even more interesting than normal when the u-turned teams, after finishing the canoeing, realized they had to go lug everything off the boat. The leg had already been difficult enough and we definitely would have gotten some great reactions. 
Not only would the reactions have been great, but the theatre would have been great as well. Two teams, likely side-by-side managing one of the more physical challenges the show has seen. The drama could have even been heightened even more if Amani and Marcus had been U-Turned having done the seemingly harder Detour option already.
Imagining how much fun we could have witnessed with the double U-Turn becomes the only disappointing aspect to this week's episode. We didn't get to see anyone U-Turned.  If Laurence and Zac had beaten Amani and Marcus to the Double U-Turn, certainly Amani and Marcus would have turned around and U-Turned Jeremy and Sandy or Justin and Jennifer.  Alas, all we can do is guess what would have transpired.
Regardless of the way the leg played out, why were Laurence and Zac the only team that used it? Sure, Amani and Marcus knew at least Jeremy and Sandy were behind them, but why not U-Turn them just in case? They have no idea what remains in the episode, they may need that time later.  Same goes for Jeremy and Sandy. They know Justin and Jennifer are behind them, hit them with a U-Turn, just in case. 
The best part of the leg came at the end with the dramatic long run up the dirt road and driveway. The Amazing Race has conditioned me not to believe their attempts to build drama, but for once it actually happened.  I suppose the wait was worth it because that was a phenomenal ending. Also, kudos to Andy and Tommy for not apologizing for beating Ernie and Cindy. It's a race!
More from this episode:
Despite its rampant abuse by football commentators to the point where the word seems made up, physicality actually is a word. I looked it up.
I loved that people were holding up signs for where to get the clues and where to do the Speed Bump in the Salima bus station.
How was Jennifer's first reaction not to just ride back to Justin to get the clue? Staying in one place is the worst thing she could have done. Her lack of logic was stunning.
Interesting twist at the Double U-Turn with the iPad-like touch screens to decide who to U-turn. Again, too bad it was barely used (and incorrectly at that).
I feel like I ask this every season, but seriously, why can't anyone paddle?
Tags: The Amazing Race, Reviews
Want more The Amazing Race?
Sign up for our daily newsletter and receive the latest tv news delivered to your inbox for free!
From Around the Web
More From TV Fanatic
It's getting crazy on Gang Related! Lines are being crossed by gangsters and officers, is anyone in the right?
On Rookie Blue, Andy assists Sam in a missing persons case. Elsewhere, an undercover operation to track down illegal handguns sends Chris scrambling to maintain control.
Join us for the rewatch of Gossip Girl Season 2 Episode 9 "There Might Be Blood." What did you think of this episode?
Duck Dynasty Season 6 Episode 5 was all about re-branding. Read on for our latest rundown.
---