The Secret Circle Review: Road Trip
by Carla Day at .
The Secret Circle took a road trip in "Beneath," which lead to an unhappy ending for all.
Not only does Cassie have a special power (not convinced yet that it's dark magic) that allows her to do individual magic, but she is quite the guy magnet. Faye and Diana don't seem to stand a chance with any male as long as Cassie is around. She has Adam and Jake swooning, even if they don't realize it.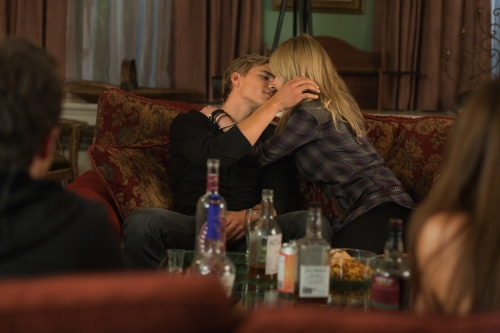 Truth and Dare is a dangerous game. It backfired on both Faye and Diana when Cassie kissed Jake. It was surprisingly passionate, too, considering the circumstances. The look on Adam's face... ouch. You'd think he turned away from a beheading or worse.

Cassie and Jake have a spark when they are together; I wouldn't mind them hooking up... except for the whole trying to kill her thing. I'd like to think he'll turn on the Witch Hunters to protect his crush, but I don't think it will be easy or even possible for him to do so. Cassie is no longer just a witch to him - she is a human being, a person. Plus, they have shared magic and are in the same circle, is it even possible for him to kill her?

While I see a connection between Cassie and Jake, it looks like Adam is officially available now that Diana has dumped him. Again. After Adam's reaction to Cassie's smooch, I don't blame her at all. She was very mature in her reasoning. They do need to see what it is like to be without the other; they are so young. Given Adam's family life, I think he was trying to hold on to the one stable person in his life, his rock.

He loves Diana, but he also has feelings for Cassie that he can't control. Whether Adam and Cassie are fated to be together or not, they have an uncontrollable attraction. With the reference to Adam possibly having dark magic, too, perhaps they have a magical connection beyond their knowledge.

Speaking of a magical connection, Faye's grandfather was able to reach beyond his death to communicate with Faye and Cassie. Was there a connection between the two girls or was Cassie able to see young Faye because of her unique power? Regardless, there has definitely been something triggered within Cassie and possibly the entire circle.

The scene at the lake with Faye, following immediately by Cassie seeing a young Faye and putting her hands in to reveal Henry's body, was beautifully written and shot. The tension was real. The shift in Cassie as she walked down the pier and touched the lake was actually a bit frightening. That was the moment I first thought that maybe it was dark magic within her.

Chance Harbor is a scary place to live right now. Death is all around. With one Elder gone and another under a spell, who will protect the circle? Are Charles and Dawn up to the task, or are they consumed with their quest for power that they won't be able to help their children?

Watch the official preview HERE for the last Secret Circle episode of 2011.

Carla Day is a staff writer for TV Fanatic. Follow her on Twitter and on Google+.

Tags: The Secret Circle, Reviews
From Around the Web