The X Factor Top 12 Review: Desperate For Desperado
by Dan Forcella at .
Well, the heck if that wasn't a dramatic improvement over last week's live show. I guess all it took was getting rid of some early jitters to allow more than one of these finalists to shine vocally.
Other than the continuing annoyance of L.A. Reid desperately shoving his faux rivalry with Simon in our faces, The X Factor Top 12 was very enjoyable. Now let's get to the performances...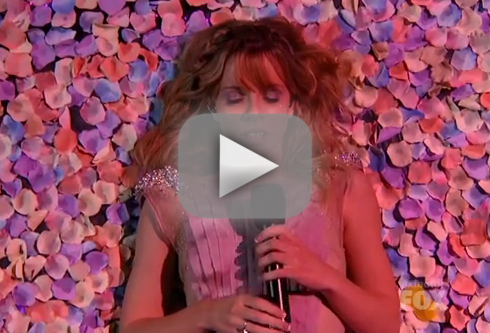 The Stereo Hogzz "Rhythm Nation" - Unfortunately, my positive comments don't start with this group.  In fact the groups were pretty poor once again in general, but the Hogzz might have been the least successful of the three.  There was just way too much focus on the choreography, and very little on the actual singing.  And were those storm troopers on the stage with them?
My Score: 3/10
Chris Rene "Superstar" - Here is where the improvements began, because Chris Rene had them in spades.  The artist I fell in love with during auditions was back as he combined smooth singing vocals with an original rap verse that was absolutely fantastic.  When he came back with the chorus to end the thing, I thought the audience was going to fall out of their seats.
My Score: 8/10
Leroy Bell "I'm Already There" - He was soft and sweet yet again, but this time with a lot more emotion.  Nicole was right when she said that "sometimes less is more" but in this case less didn't necessarily shoot Leroy to the front of the pack.  A good performance, but nothing anyone should be raving over.
My Score: 5/10
Rachel Crow "Walkin' On Sunshine" - Okay, Simon and I are going to start fighting over his Rachel decisions pretty soon.  She is adorable and has the powerful voice to make her a front runner, but he keeps giving her these upbeat teeny bopper songs that aren't giving her a real platform to showcase her talent.   This was nice, but like last week, I've seen much better from her.
My Score: 6/10
Lakoda Rayne "Landslide" - Like L.A. pointed out, and Steve Jones continued to notice in almost a creepy fashion later on, these girls looked beautiful up on stage.  The performance was also good, if unspectacular.  They still sounded like there were 15 girls on stage, and the song is hard to mess up, but overall a good performance.
My Score: 6/10
Josh Krajcik "Jar of Hearts" - I agree with Burrito Josh when he said "It doesn't matter who the song's by, because it's gonna be by me."  He killed this song originally done by a female.  It had power, soul, and he made it his own.  Most importantly, it had a melody this time!
My Score: 8/10
Melanie Amaro "Desparado" - Ding, ding, ding! Best of the night alert.  Dear Burrito Josh, this is how you sing a capella and still keep the song recognizable.  Melanie was fantastic throughout this performance, especially when she tossed in a bit of a growl in there for good measure.
My Score: 9/10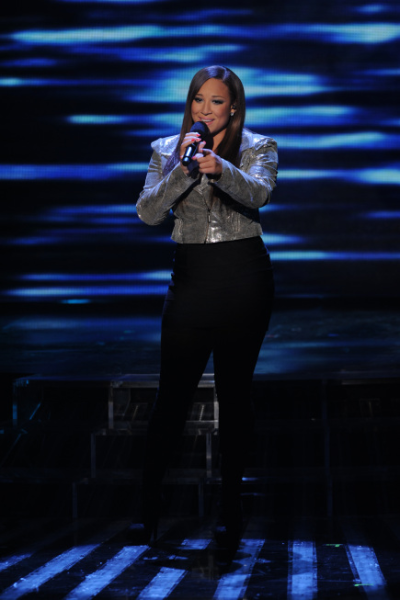 Astro "Hip Hop Hooray" - Again, he proved to be a good and downright quick rapper tonight, but his lack of command and charisma are what is holding him back.  Don't mistake arrogance for swagger judges.  They are not one and the same.  When he blurted out "Let's have some fun" it felt so forced.  He is still young, and as he grows up, I absolutely think he can improve on that facet.  For now, it's just not all there.
My Score: 5/10

inTENsity "Kids In America/Party Rock Anthem" - Some of the individuals are good here...the first lead girl and the quasi rapper near the end, but that's all this is, a bunch of solo artists thrown together.  There's not a lot of group dynamic with this Franken-group.  There was still more to enjoy than what The Stereo Hogzz put forth though.
My Score: 4/10

Drew "Just A Dream" - Not quite as great as last week's showstopper, but the slowing down of this Nelly song combined with her unbelievable tone, made this performance one of the best of the night.  I am no doubt a huge Drew fan at this point.
My Score: 8/10

Marcus Canty "Every Little Step You Take" - L.A. wants him to be the next Bobby Brown, so he gave him a Bobby Brown song to perform, and it worked.  Marcus just feels like a star when he's out on stage, and with the great vocal work he showed in this performance, it puts him in contention.  He was confident. He was charismatic.  It was a good performance.
My Score: 7/10

Stacy Francis "Up to the Mountain" - Simon was right.  This is exactly the type of song she should be singing.  Stacy improved immensely over last week.  She is a gospel singer and it definitely worked for her with this strong, soulful performance.
My Score: 8/10

So Melanie earned my pick for Best of the Night, but if I were to vote, my calls would be going for Drew and Chris Rene.  Those are my two favorites at this point in the competition.  If one of the groups don't get sent home tomorrow night, I would be very surprised.

Who is your favorite of the night?  And who do you think will get sent home tomorrow?  Weigh in below.

Dan Forcella is a TV Fanatic Staff Writer. Follow him on Twitter.

Tags: The X Factor, Reviews
From Around the Web