I don't even know where to start.
"Under God's Power She Flourishes" was an amazingly powerful episode that managed to raise our expectations for the show... again. My only complaint would be that so much happened this week that it's difficult to imagine what could possibly come next.
I guess it's best to start with the most compelling and unsettling storyline from the episode. Boardwalk Empire used flashbacks to bring the Jimmy-Gillian relationship to new levels of ick here. The majority of Jimmy's onscreen time took place in the past, which made the contrast between his younger idealistic self and the broken (only slightly older) version all the more apparent and tragic.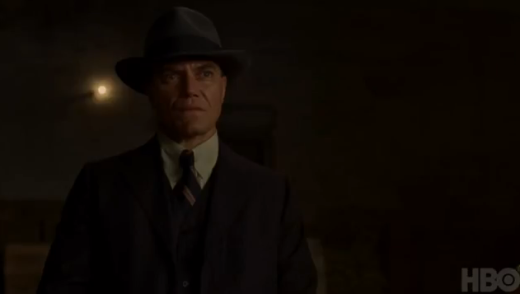 It seemed like Jimmy was doing his best to remember Angela, who's haunting voice repeatedly says, "Jimmy, I have to leave." But the main focus on this flashback was Gillian. The Princeton-era Gillian, much like her present counterpart, always needs to be the center of her son's world. She upstages Angela at the party, being overly flirtatious with Jimmy's teacher so that he would notice and then transforming into the damsel-in-distress to get even more of his attention. But Jimmy's family drama isn't just Jacobean as Professor Pearson points out; it's also Oedipal.

In a scene I think we've all been anticipating for quite some time, Jimmy helps his drunken mother into bed... and then she kisses him. Despite her claims that there was "nothing wrong with any of it," Gillian abandons her son the morning after and he runs off to join the army, probably hoping to find some kind of oblivion overseas. And the drama doesn't end there. Listening to Gillian coldly write off Angela, blind to her son's obvious pain, was difficult to watch. It all became too much for Jimmy when Gillian suggested Tommy might just forget about his mother. His violent response (probably intended to just make her shut the Hell up) lead to the death of his father.

Jimmy's had his difficulties on this show and his somewhat self-destructive streak has never made much sense to me until now. He is suffering from some serious psychological issues and, as I'm sure we've suspected, Gillian is the cause of all of it. Whatever sympathy I felt for her, or the younger version who was raped by the Commodore, vanished when I watched her ruin any chance her son had to build a future for himself or have a successful and loving relationship with a woman. Gillian's made Jimmy into the man he is today, and that's not something to be proud of.

Will Jimmy ever finally stand up to his poisonous mother?

While Jimmy's relationship with his mother begins to degenerate, a similar process is underway with Nucky and Margaret. The growing chasm between them was perfectly represented by their discussion about the parable of heaven and Hell. Nucky's parables are all about self-preservation and helping yourself, like the "two boats and a lifeguard" story. But Margaret focuses on helping others, a clear sign of new religious streak.

However, we can't forget that all of Margaret's charitable donations and sudden desire to do the right thing are based on one thing: guilt. She sees all the terrible events around her as punishment for her lying, cheating and stealing, which is actually pretty self-centered. Not only that, she still can't bring herself to confess to the affair with Owen. Even though she's trying to make the moral choice about the subpoena, that doesn't mean she's making the right one. Her testimony won't get her the punishment and accountability she desires, it will only harm Nucky and her children in the long run.

I like Margaret; she's a complicated character and Kelly MacDonald does a brilliant job making her seem flawed yet likable. But I feel like this "religious" Margaret is more sanctimonious than anything else.

Do you think Margaret will answer her subpoena despite Nucky's threat? Should she? And Van Alden's on the loose! What's his next move?

We'll find out on next Sunday's season finale, which is previewed HERE.


Tags: Boardwalk Empire, Reviews