Burn Notice Season Finale Review: Never Saw This Coming
by Jim Garner at .
As this season has come to a close, the emotional intensity has been practically tangible. So much so that the last two episodes have both garnered a perfect rating from this reviewer. Last week, I threw down the gauntlet when I asked if Matt Nix and his team could make it a triplicate and end the season the same way.
In response to my challenge "Fail Safe" picked up said gauntlet and promptly used it against me in an episode that was so well done, I would have given it a 6 star rating had it been possible.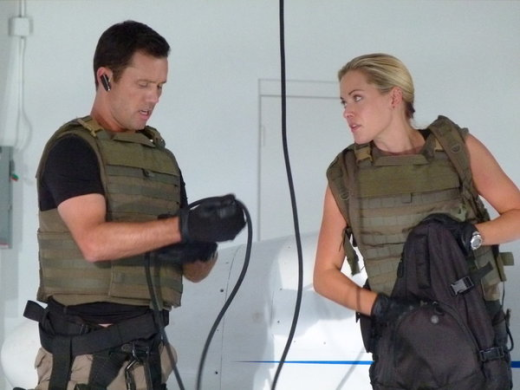 Let's start with the biggest game changer: Fiona turned herself in. To the very last second I thought Michael was going to be able to stop her. Even after the first agent drew his gun, I though Michael would rescue her. 

Michael made it very clear to Fiona that there was no line he wouldn't cross when it came to her. Of course, he promptly followed that statement with handcuffing her to a cage... so there might be some therapy in their future, if they have a future.

I can't even fathom what this is going to mean for next season. While it's conceivable they could break Fiona out, my gut feeling is that Nix has another ace up his sleeve and - much like Fiona turning herself in - we won't see it coming. 

Now that he no longer can use Fiona as leverage, where does that leave Anson? Given that Anson is still around and the last we heard from him is when Michael said that he would see him in Hell, I suspect he's going to continue to be a thorn in Michael's side. Let's not forget that Anson also has agent-turned-traitor Rebecca Lange (Kristanna Loken) working for him already.

Michael may have some new allies, as well, depending on what happens with the virus he planted in Pearce's computer. I can't imagine it will go over well for Pearce or Michael that on his first op a traitor was discovered and evidence was planted, implicating the rest of them. 

While I don't agree with Michael's method, I can understand his logic of fixing what he breaks. Though, it has to be different this time when he actively burned agents, including Pearce, who had just begun to trust him again, compared to when accidentally burned Jesse.

Then again, with Lange being discovered as a real traitor, maybe they will focus on the larger picture or be able to use that to undo the damage the virus caused quickly. Clearly this will be a question we will ponder until next season. 

Anson didn't give up his hold on Michael without a fight. Even when his head was in the cross-hairs, he convinced Michael to give him a reprieve by pointing out that had Michael not been burned, he would not be as close to his family or Fiona. Looking back at where Michael came from, I have to agree with him. We don't always get what we want in life, but we do seem to get what we need. 

For better or worse, Michael needed to be burned. He might be figuring it out, too, considering his comment to Pearce about it not feeling the same being back in the CIA saddle. Jesse certainly has taken a different route after being burned and then cleared. 

Many things to think about during the break and I can't wait to see what trick Nix and his team pull out of their hat next. And, Mr. Nix, if you're ever in the San Francisco area, I would be honored to sit down and have lunch. 

Jim G. is a TV Fanatic Staff Writer. Follow him on Twitter.

Tags: Burn Notice, Reviews
From Around the Web