Family Guy Review: Prison Break
by Kate Moon at .
Family Guy went for its own unique version of The Hangover in "Cool Hand Peter." With Cleveland's return to Quahog, Peter and company decided to have an adventurous boys' road trip to New Orleans.
Of course, things went horribly awry after they made a wrong turn and ended up in the deep south. Poor Cleveland, only moments after returning to Family Guy, he gets harassed for being black by his friends and the racist southerners.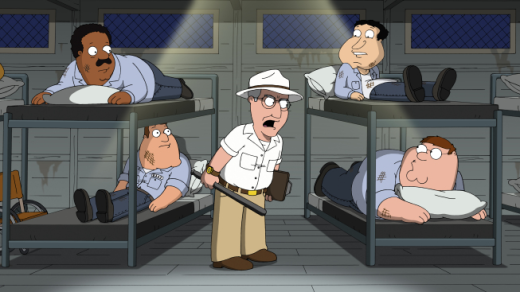 Family Guy has been on a welcome streak with coherent, focused storylines lately, and I've been really enjoying the interactions between the core characters. Although Joe, Quagmire and Cleveland have always been important folks, the four male friends haven't been featured in a lot of plotlines together. Tonight was definitely a nice change of pace.

Poking fun of racist southerners gave us plenty to chuckle at. Peter's attempts to mimic the high-brow "Northern speak" with his Harvard sweater and his subsequent attempt at "Southern speak" were both hilarious.  Guess there isn't as much love for William H. Macy as he anticipated.

The meta moments of tonight's episode was comedic gold as well, as the quick flash of the Simpson jurors was just enough, while Quagmire's irritation at his friends' refusal to name "McDonalds" and "Burger King" was awesome. Oh come on, they don't own French fries! You tell them, Quagmire!

As much as I enjoyed the guys' night out, I would still have to hand the best one-liner of the night to Stewie as he pulled out his revolver and uttered: "All right, I guess this is the night b*tches die." Ha! Stewie hasn't lost his edge. 

Next up, ladies night out? For some reason, I expected the women's gathering to be much more promiscuous and wild... but only Brian got the worst of it with his adorable bee outfit.

What did you think about tonight's Family Guy? Browse through some of the best quotes of the night here! 

Tags: Family Guy, Reviews
From Around the Web