Leverage Review: Two Grifters and a Thief Walk Into a Party...
by Jim Garner at . Comments
Stop me if you've heard this one... What do you get when Sophie, Parker, and the visiting Tara work together? "The Girls' Night Out Job," where no boys certainly didn't mean no fun!
Jeri Ryan, welcome back to Leverage. We haven't seen Tara since the end of season two and she seems to be doing well. Then again, Ryan has been keeping busy with another show that I also enjoy very much, Body of Proof.
It was fun getting to watch Tara and Sophie's different styles of grifting. Tara was much more the "act first" type, figuring out a plan and just going with it. Conversely, Sophie was "think first," creating an interesting dynamic. Neither was bad, of course. Both were highly successful, as the party goers never knew what hit them.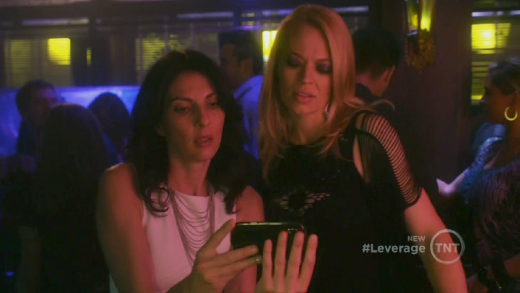 Going into the episode, I was worried that Parker would be out of her league as the only thief mixed with the two grifters. My concerns were quickly put to rest, though, as the story unfolded and we learned that Parker was instigator for the job. Of course, she has also been learning from Sophie, so she had no problems getting Craig Mattingly to do what she needed.

I wonder if we will see the dapper and suave Mattingly again. Parker did a pretty good impression of Jiminy Cricket here, teaching him that he could steal for the right reason. This was further driven home when Sophie and Parker ended up with the money and he ended up with tape recorder of music (and Tara).

Given his fan-boy status for Parker, and his fawning over "The Parker," I could easily see him come find her when he is trying to do a job for the right reason but need help. 

Did Mattingly have an accent? I kept thinking I was hearing one, but I was never sure. Either way I can sympathize with Hardison. If my girlfriend sent me pictures of him, I would be a little worried too. And while we are on the topic of Hardison and Parker, how cute was he trying to get her excited about the robot battles? 

Overall, it was a fun and refreshing episode that reminded us that sometimes girls can get things done solo. Well, solo might be a bit of a stretch since they did call Hardison a few times. This gave us a small glimpse into next week's episode - The Guy's Night Out Job - that takes place during the same time frame as this week's story. I can't wait to see what the boys got into. 

Jim G. is a TV Fanatic Staff Writer. Follow him on Twitter.

Tags: Leverage, Reviews