When Ringer began, I was thrilled with the return of Sarah Michelle Gellar to the small screen and even happier about the intriguing storyline that kept me guessing. Unfortunately, at the midseason break, I find myself asking what the point is to the unending complications and wondering whether the plot has gotten hampered by its own unending twists.
Let's go over what we've seen so far, TV Fanatic Midseason Report Card style, shall we?
The Pregnancy. I'm disappointed with the way they ended part of this story. Bridget seemed to almost ignore the fact that her counterpart was pregnant and then a supposed miscarriage sort of fell into her lap. 
I wasn't looking for her to fake a pregnancy forever or even get pregnant as the timing would never have work but I expected Bridget to put more effort into dealing with this loose end. Instead it felt like circumstances took over and I found it unsatisfying.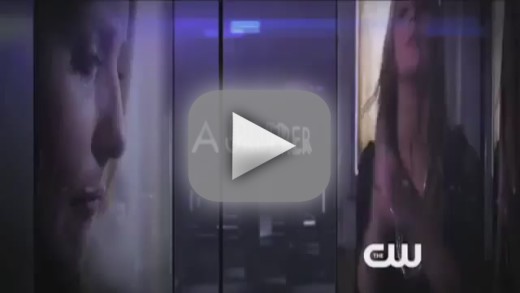 Gemma's Death. I liked Gemma, a lot and I'm sorry to see her go but I'm even more sorry for the way it took place. If Gemma was dead from the time we witnessed Henry cleaning up the blood in their apartment, that would have been OK.  Her body could have eventually been found and led us down an entertaining who done it storyline.

Instead, unbeknownst to the audience she was kept alive in a basement for weeks. First off, all of that blood means she must have been badly injured but she appeared alive and well bound to a chair. Where were her wounds and who took care of them? Charlie? He didn't seem to be the caretaker type. 

Then Gemma almost escapes but makes the boneheaded move of letting Charlie live, thus giving him the chance to shoot her a second time. Then he tells her that Siobhan is alive only to kill Gemma a moment later. I didn't understand the point of divulging this information only to have it go no where. 

Best Character: Bridget remains the most interesting. She's strung together so many lies that I can't imagine how this all works out in the end. But she's smart and resourceful and isn't about to back down now. Still, I wish she had a little more of a sense of humor.

Worst Character: It's a tie between Malcolm and Juliette. Having Malcolm held hostage in Makawi's basement for weeks made it hard to connect with a character we'd just met. Did anyone else notice that in only ten episodes we've had two characters held hostage in basements? Odd, that.

There's a lot of wasted potential where Juliette is concerned. I'd love to see her relationship with Bridget explored more. Instead they've taken her down the road of misunderstood rich girl with a crush on her teacher. I find the rape story they left us with creepy and uninteresting.

Biggest Waste of Potential: Agent Machado. I love the actor but they have to find more for him to do besides make Bridget uncomfortable.

Biggest Unanswered Question: This show has plenty of them but the most glaring for me is about that little boy. During the pilot we were led to believe that a young boy died and that this has something to do with Siobhan hating her sister but it's midseason and they've never touched on it again. They really need to give us some clues about this before we forget about the plot point all together.

Despite all of the above there are things I enjoy about Ringer. Andrew has become a favorite as he's falling back in love with his wife but it only makes me wonder about why Siobhan went to such lengths to get away from him.

Siobhan's real pregnancy is still a wild card. Is the baby Andrew's or Henry's and is she really going to pawn it off on her new boyfriend?

With Siobhan back in New York things can only get more intriguing. Will Bridget find out her sister is really alive and will we get answers to why someone is trying to kill Siobhan?

I'll still be watching Ringer when it returns but the last few episode got bogged down in plot twists that left me wondering where all of this is headed. I've got my fingers crossed we get back to the excitement we started off with. 

Midseason Grade: C+

C. Orlando is a TV Fanatic Staff Writer. Follow her on Twitter.

Tags: Ringer