The Big Bang Theory Review: The Bully Versus the Mathletes
by Carla Day at .
I didn't like "The Speckerman Recurrence."
While there were a few funny moments, I almost felt guilty laughing because it made me feel like a bully. Recently, the plight of bullied kids has become a high profile discussion, so this episode seemed somewhat in poor taste. The Big Bang Theory has always been a show about and for intelligent people and nerds, though not exclusively. Unfortunately, this episode showed the audience that once you are bullied, you will always be bullied.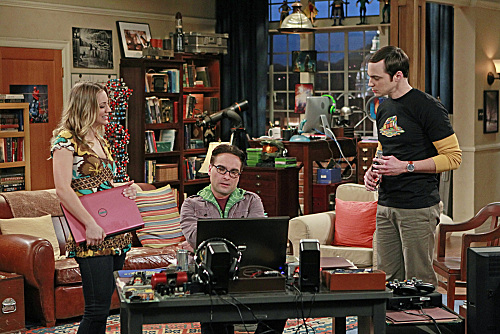 Chuck Lorre had an amazing opportunity to be funny, while also empowering those that are being bullied. The end with Sheldon and Leonard running away from Jimmy was unfunny, unoriginal ("just need to outrun you"), and also down right discouraging. This conclusion discounted anything else redeemable in the episode.

Despite that, I'll mention them.

My favorite line was when Penny asked about the Wi-Fi password. This ongoing joke cracks me up each time. It's a little surprising that Sheldon comes up with such witty passwords without being anal about security, but this continuity makes me smile every time.

As has become common, the guys and girls were split up here with very different outcomes. Penny came to realize that she was a bully and wanted to make up for it. Her attempts to apologize seemed only somewhat genuine, as she still had little patience for her victims. In Penny-style, she decided to be charitable, but only if it wasn't too much of an inconvenience. Given my outrage at how the guys' bully storyline was handled, I probably should be more upset with Penny, as well. But, for some reason, she was so charming in her own way. Perhaps, it is because she wasn't mean-spirited, as Jimmy continued to be.

Penny has been rubbing off on Amy and Bernadette and usually it has helped them become more socially adept. This time, she instead corrupted them to steal donated clothes. Fortunately, she realized it was wrong. It was a fun departure for Bernadette when she took the shoes and justified it with her work at the soup kitchen.

I would have liked to see Sheldon's bullying nature to have been highlighted a bit more. His lines were some of the funniest, but at the same time they were demeaning to his friends. This is commonplace on the sitcom, but given the theme, it would have been perfect for any of his friends to call him out about it and make a joke. That could have redeemed the episode by showing anyone can be a bully.

I'm probably over-thinking the episode, because it is a comedy, but the topic could have been handled more appropriately and not have slid by with unoriginal, cliche jokes.

In any case, check out the few funny lines from the episode and sound off with your take on it.

Carla Day is a staff writer for TV Fanatic. Follow her on Twitter and on Google+.

Tags: The Big Bang Theory, Reviews
From Around the Web