Alicia Florrick nearly suffered through her biggest nightmare on The Good Wife last Sunday, while fans of her and Will as a couple did, indeed, endure a troubling resolution to this pairing.
What did you think of "Parenting Made Easy?" In the latest edition of the TV Fanatic Round Table, panelists Matt Richenthal, Christine Orlando and  Carissa Pavlica discuss...
-------------------------------------------
What was your favorite scene from the episode?
Matt: Eli trying to be friendly, and then Will calling him out on it. These two rarely interact, but it was fun to see the former get put in his place a bit, while also reminding me that he works with Peter. I had forgotten.
Christine: I really enjoyed the back and forth between Alicia and Canning as they both backed up their apprentices. Martha showed that she could hold a grudge, Caitlin proved she was blonde, not stupid, and even the mediator was entertaining.
Carissa: I hate to say it, but the talk Grace and Alicia had about happiness. I was genuinely pleased that Grace cared so much about her mothers state of mind. Shows she's growing up.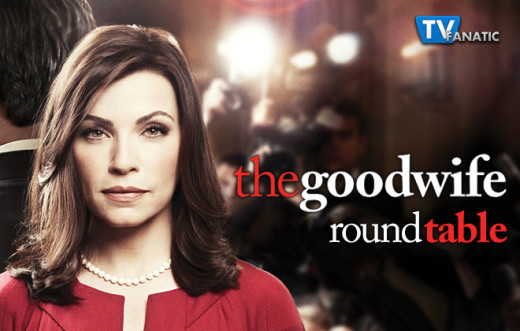 Did Alicia make the right choice in dumping Will?
Matt: Absolutely. There's clearly been something missing between these two, namely an open discussion about their feelings. Hot sex is cool when you're just out of college, but Alicia has two kids and a non-public separation. Oh, Will is also her boss.

Christine: Yes, but only because I think she needs to end her marriage with Peter before she can have anything real with anyone else. The unexpected part in all of this was that Will always seemed more invested in this relationship than Alicia. Unfortunately, he turned out to be one distraction too many.

Carissa: They don't really have a relationship. They were merely doing each other. It causes her so many different problems, such as guilt and anxiety, I don't see any reason they should stay together. If Alicia decides she is interested in having something other than a fling, I think he will be willing to to jump back in.

Should Alicia go work for Louis Canning?
Matt: I can't think of any reason why should should not. She'd be able to spend more time with her children and, what, Canning has shady clients and/or practices? Wake up, A, so does Lockhart/Gardner.

Christine: No, at least not unless she loses her position at Lockhart Gardner. Canning is just as cutthroat as any attorney, no matter how friendly a face he tries to put on it.

Carissa: Absolutely not. Knowing that he stole a document from her bag was the last straw for me. I find that pathetic. He can't win a case without theft? For shame.

Grace's kidnapping: Tense or lame?
Matt: Lame. It was obvious all along that Grace would be safe and it simply came across as a contrived plot device to force her split with Will.

Christine: From the moment Alicia got the phone call I thought it was tense, but I never believed Grace was in any real danger. I disliked the way it ended. Why wouldn't Kalinda call Alicia the moment she found the girl?And since Kalinda obviously told Grace what was happening, why wouldn't the girl immediately call her parents? That didn't make sense to me.

Carissa: During the event it was tense. The conclusion was lame.

Matt Richenthal is the Editor in Chief of TV Fanatic. Follow him on Twitter and on Google+.

Tags: The Good Wife, Round Tables