The X Factor Finale Results: Who Won It All?
by Dan Forcella at .
The X Factor crowned its first-ever U.S. champion this week... although it took two hours and a number of performances to get to that point.  
Each finalist sang a holiday classic and then multiple stars jumped on stage to perform, highlighted by a number of L.A. Lakers bench players joining 50 Cent on a couple of tracks. That was certainly the strangest thing I've seen since those Robocop dancers were on stage the night before.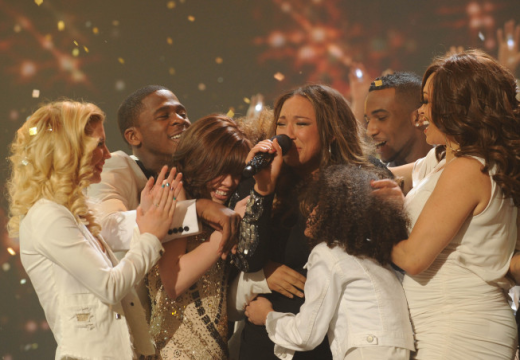 Steve Jones then announced the third place finish on the first season of The X Factor. And the second runner-up was... Chris Rene!

That meant it was down to Josh Krajcik and Melanie Amaro for the title. After a number of other performances - including numbers by Justin Bieber and Leona Lewis - the debut winner of The X Factor was revealed. And the grand prize of a $5 million recording contract and a worthless Pepsi commercial was... Melanie Amaro!

Let's hope Krajcik doesn't go back to slinging burritos.

Amaro screamed out "God is Good" upon winning, ending the evening with another version of "Listen."

What do you think, TV Fanatics, of The X Factor results?

Dan Forcella is a TV Fanatic Staff Writer. Follow him on Twitter.

Tags: The X Factor
From Around the Web