It was once again time to face the music, as Josh Krajcik, Chris Rene, and Melanie Amaro battled to become the first winner of The X Factor in the United States.
Apparently Simon Cowell didn't know that this was the first season of the show because he claimed that it was going to "be the closest finale we've ever had" before any of the performances started. Yeah, of course. It's the only finale you've ever had.
Let's take a look at what happened in round one of performances, which unfortunately for two of the finalists, paired each contestant with a famous recording artist for a duet.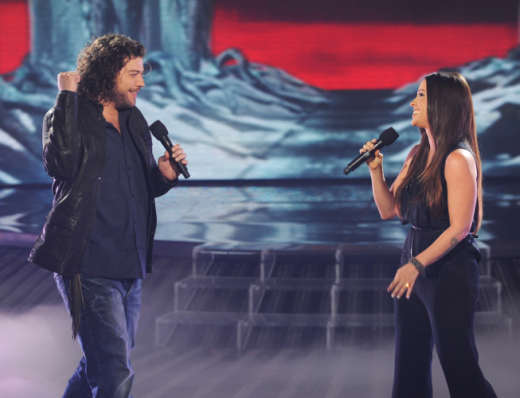 Josh Krajcik "Uninvited" - He was boring me to death, and then Alanis Morissette came on and showed him up. Their voices sounded even worse together. When Josh had his own little moment again, he seemed to just be mumbling through the whole thing.
My Score: 4/10

Chris Rene "Complicated" - His lower register didn't sound very good at all, but his upper moments actually sounded good. Here comes Avril Lavigne, and of course she overpowered him when they sang together. His rap-esque verse was not one of his better efforts. These duets are hurting everyone.
My Score: 5/10

Melanie Amaro "I Believe I Can Fly" - She completely outdid the first two with this performance. This song was a good pick for her, as evidenced by the fact that it was her second R. Kelly song of the year. And unlike the first two performances of the night, she meshed well with her famous singer. R. Kelly definitely brought the best out in Melanie, as she showed a lot more emotion in the second half than in the first.
My Score: 9/10

Before Josh Krajcik started round two, we got a performance from the Cirque du Soleil cast of "Immortal."  It just looked like a bunch of Robocops dancing to MJ. Then, our finalists came out and sang "They don't care about us" about fifty times in a row. Rene definitely was digging it, Josh Krajcik looked completely uncomfortable. That performance was probably the worst thing I've seen in my entire life.
My Score: 0/10

Josh Krajcik "At Last" - It's incredible what Josh can do when he doesn't have to sing a song by one of the handful of artists that The X Factor could get to come out here to do a duet on this Wednesday night. He sounded great in this performance, and he did a good job of making the song his own. Adding the guitar was a nice choice, but having crazy eyes throughout didn't help him.
My Score: 8/10

Chris Rene "Homie Whatcha Trippin' On" - I fell in love with Chris when he did this original song at his audition, but this is now the third time he's performed it. It was great once again, as the song is so catchy and could be a hit right now, but he gets points taken away for taking the originality out of doing an original song. I worry about him because the other times that he has done original stuff, it hasn't been nearly as good as "Homie." Again, this was great, and probably his best version of the song, but come on.
My Score: 8/10

Melanie Amaro "Listen" - With this performance, Melanie proved once again that she is the best singer out of this group. She has a powerful voice, and she didn't miss a note in this one.  It wasn't her best performance of the season, but her consistency is stellar. This was the same song she performed in her audition, but it's been a long time since then so I don't have as much of an issue.
My Score: 8/10

Whether Simon knows what season of The X Factor this is or not, I think he was correct about this being a close call. I wouldn't be surprised by any of these three winning tomorrow night, but I think Melanie deserves it based on consistent success throughout the season.  

What about all you TV Fanatics? Who do you think was the best tonight? Who do you think will be the winner at tomorrow night's live results? And which contestant do you think deserves to win?

Dan Forcella is a TV Fanatic Staff Writer. Follow him on Twitter.

Tags: The X Factor, Reviews