What is that under the Christmas true? It's a box full of love... or laughter... or entertaining drama.
That's right, readers, after weighing on on Best Show, Breakout Star, Best Villain and Funniest Show of 2011, our staff is back with a look at the year's top tandems. Read through the debate below and then chime in yourself:
WHO COMPRISED THE BEST COUPLE OF 2011?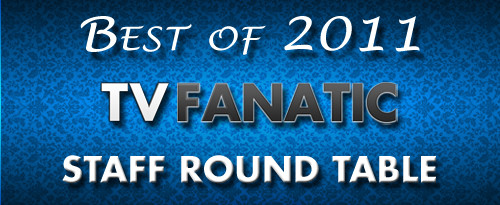 Matt Richenthal: Eric and Tami Taylor from Friday Night Lights. This is my answer for 2011 and would have been for 2010, 2009, 2008... 

Eric Hochberger: Jaime and Cersei Lannister from Game of Thrones. Man, that's some good looking incest.

Carissa Pavlica: Emma and Ethan on The Lying Game. From the moment they met, their spirits were intertwined. He never thought she was her sister, and saw all of the unique and good qualities she had in an instant. They have a deep trust and it makes it incredibly easy to cheer them on.

Chandel Charles: Shawn and Juliet from Psych. It took the writers five and a half seasons to get these two together in a way that was organic and true to the show. And they've avoided the Moonlighting curse better than any show I've been keeping tabs on this year. I can say with absolute certainty that these two are going to last and that the show will be better for it!

Arlene Gonzalez: Jax and Tara from Sons of Anarchy. Their love literally knew no bounds this year. And in the end SAMCRO'S new king and queen have risen to the throne!

Steve Marsi: Mike & Molly from Mike & Molly. They're just so... identifiable. Not to mention underrated.

Leigh Raines: Caroline Forbes and Tyler Lockwood from The Vampire Diaries. Sexy supernatural couple on TV. Hands down. That sex scene from the season premiere? Dangggg.

Dan Forcella: I loved Michael Scott every second he was on screen during his seven years at Dunder Mifflin.  When Holly Flax came into his life, I knew I was staring at the best and funniest couple in television history.  She was his perfect complement, and the only problem I have with them is that once they got together they left our TV screens for good. I miss Michael and Holly of The Office.

Jim Garner: Michael and Fiona in Burn Notice. Michael was willing to burn four agents to keep her safe and she in turn turned herself in to the FBI to prevent him from doing something he would regret.

Christine Orlando: Prince Charming and Snow White from Once Upon a Time.  These are two characters that did nothing for me when I read the fairy tale but I love them on this show.  Charming is just that, charming, handsome, and sexy.  Snow is fun and feisty.  The two have great chemistry and I can't wait to see where this classical but completely unconventional love story takes them.

Christina Tran: MerDer, of course! They are the epic couple. Although their marriage has been on the rockier side recently, it's still as strong as ever and they're on their way to building a McFamily.

Your turn, readers: Who was the best TV couple of 2011?

Tags: Round Tables, Best of 2011