Welcome to our weekly Gossip Girl Round Table discussion! Below, our panel breaks down the winter premiere (see our official review from last night) of our favorite show in even greater detail.
Below, TVF shot-caller Eric Hochberger (Gossip Guy) and editor Steve Marsi (Mister Meester) join writers Courtney Morrison, Christina Tran and Leigh Raines to discuss "Father and the Bride."
Weigh in with your take on the following topics after reading ours!
-------------------------------
1. What was your favorite quote or scene from the episode?

Courtney: This is an obvious choice, but it has to be Blair at her bachelorette party. Girl was having some fun and it was a nice change of pace. I don't think we have seen her have this much fun since before Louis came in to the picture. Plus, how can you not love the ex game and the shout out to Carter. Loved it!
Christina: Blair: "Forgive me, Father, for I have sinned. I pressed the close button in the elevator when I saw a woman running to catch it." I'll admit that I snickered a little because I've committed the same sin on more than one occasion.
Leigh: When B marched out of her holding cell and started calling Beatrice a royal backstabbing bitch. I realize that's a little messed up but damn was it nice to see Season 1 Blair for a split second!
Steve: Nate and Serena pulling a fast one on Trip. I think Nerena has great potential as a professional partner-in-crime duo. Also, Chuck attempting to stalk Blair inconspicuously in an expensive suit with limo in tow, and Dan asking the cop at the station desk "How you doin'?" after arriving to bail Blair out.
Eric: There's a fine line between surveillance and stalking. Getting caught.
2. Most unlikely allies: Chuck and the priest, Nate and Gossip Girl, or Louis and Dan?

Courtney: Chuck and the priest. Nate and GG's arc makes sense; she has the info and he needs it. Louis knows Dan is a great friend to B, so that makes sense. As much as I love Chuck fighting for love, the priest just feels a bit out of place. It's a new character that we know nothing about. Why do we care that he wants to maintain his position? I'd rather see the Basshole and Lonely Boy team up again.
Christina: Chuck and the priest! I mean, say what?!
Leigh: Louis and Dan. Louis thought they were having an affair just last week. How desperate is he? Nevermind don't answer that.
Steve: Nate and Gossip Girl. Don't get me wrong, the other two make less sense, but Gossip Girl - forever the puppet master and tormenter of all the Upper East Siders' lives - needing something from one of them? And Nate being in the position of power to deliver it? Never thought I'd see the day.
Eric: Since pretty much anything involving the priest is unlikely these days, I'm pairing those too.
3. More welcome sight: Blair actually having fun, or Trip getting his?
Courtney: Blair without a doubt. Trip hasn't been around enough lately for me to be invested in him getting caught.
Christina: Blair, for sure. Who knew B could party like that? Then again, more than a dozen shots later, who wouldn't have that much fun?
Leigh: Blair might just be the best drunk ever. Not only did Leighton look gorgeous and happy, but it was actually enjoyable to watch as opposed to a lot of her scenes this season. Maybe it had something to do with director Amy Heckerling who we know directed Clueless? Chick knows how to film a good party. Rollin' with the homies, anyone?
Steve: Trip going down. Blair having such a blast was a treat to watch and led to some priceless exchanges, but Trip has now nearly killed Blair, Chuck and Serena with his automotive exploits. That guy has to go.
Eric: As much as I loved seeing Blair ripping shots and smoking joints, I was just glad to see an end to the Trip storyline. That plot collapsed when Trip became a daytime soap character and attempted to murder his close cousin in the name of gramps' love. Come on, even Grandfather had to call out that storyline in the middle of the episode.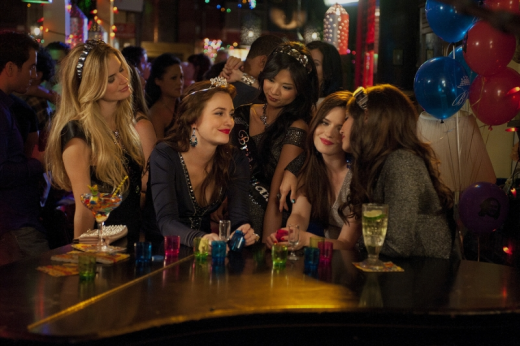 4. Will Nate's strong, independent streak continue, or is he destined to lose his way?

Courtney: Going against Grandfather might cause him to weaken, but I think Nate is going to keep his streak alive. He finally has a story and a purpose, he's not giving that up without a fight.
Christina: Well, clearly Nate took this semester off (as did everyone else), so I bet his storyline at the Spectator will continue since he's got plenty of time on his hands.
Leigh: Well now that he's spit in Grandfather's face it'll probably be a little bit harder. Something tells me Grandfather will try and sabotage Nate's effort to find investors.
Steve: I'm loving it, and think Chuck should just buy out the Grandfather and let his friend run the site, but I doubt it'll be that simple. That's a hard man to go up against, and besides, Diana Payne is still out there, somewhere in the Gossip Girl ether. No one stays buried in the graveyard of forgotten characters forever. Ask Jack and Georgina.
Eric: No, I think he's gotten a little too independent by trying to steal the company Grandfather got him. That's not a man to mess with.
5. Think up a better column name for Serena.

Courtney: Anything else is pretty much better than "S By S." Possible options: "Spoken by Serena" ... "Serena's Stories" ... or the fall back "I'm Hot & Talented, Now You Can Hate Me More."
Christina: Serena's Sexcapades.
Leigh: The Naked Pics Were Real, Now Read My Column.
Steve: My Eyes Are Up Here.
Eric: "I Make Rufus Have the Worst, Most Awkward Fake Laugh Ever" by S.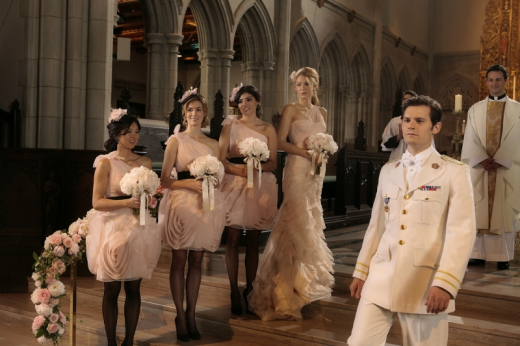 6. Share one prediction for next week's royal wedding extravaganza.


Courtney: Chuck will go to Blair with intentions of telling her how he feels and stopping the wedding. But since he's matured so much, he will realize that he can't do it and Blair will have to make the decision by herself.

Christina: Blair's going to the chapel and she's NOT going to get married. Thanks to the scandalous Georgina Sparks or meddlers such as the priest, Blair will be running back into the arms of only the love of her life, Chuck Bass.

Leigh: Georgina is going to rise up from hell and team up with Chuck and the naughty Priest.

Steve: Blair will give Kate Middleton a run for her fashionable money.

Eric: Chuck and his unlikely ally's plan will fail, but it's revealed that Dan wrote Louis' vows, causing Blair to bail out of the wedding. But, unfortunately, Dan's words which wooed her will still bring her into Chuck's arms.

7. Write, in one sentence, a personal plea for Josh Schwartz and Stephanie Savage to actually come back and write for this show again.


Courtney: There was nothing better than early seasons of GG and for a few reasons; almost realistic arcs, beautiful parties with a scandal, stories without plot holes the size of a football field, Josh Schwartz and Stephanie Savage.

Christina: With an abyss of plot holes, beyond ridiculous storylines for even Gossip Girl, and the fact that it's just not the same anymore, we need you now more than ever!

Leigh: Chuck (the show not Bass) is over, so you can pay attention to your red headed stepchild series again, THANKS ... Sincerely your loyal fans five seasons later whom you owe greatly, xoxo US.

Steve: Gossip Girl needs an episode like "The Wild Brunch," "The Debarted" or even "The Townie" to rejuvenate itself, and not coincidentally, those installments all have a Stephanie Savage writing credit ... hmm.

Eric: If you want another season, you guys might want to pay attention to your show. Crap, out of sentences.

What do you think? Sound off in the comments!

Steve Marsi is the Managing Editor of TV Fanatic. Follow him on Google+ or email him here.

Tags: Gossip Girl, Round Tables