Justified Season 3 Scoop: Wounds and Boobs
by Lisa Palmer at .
The wait is over! Justified returns tonight for its third season.
In anticipation of the premiere, showrunner Graham Yost and the cast had some great tidbits to share during their panel at Sunday's Television Critics Association press tour.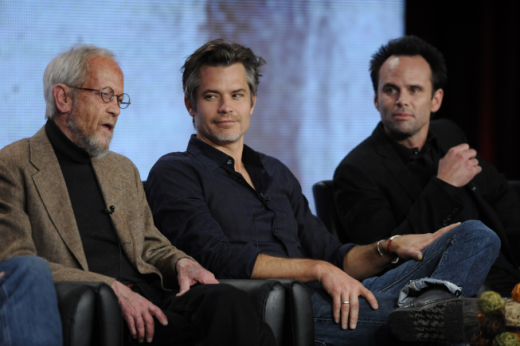 Following the season two finale death of uber-awesome villain Mags, Neal McDonough was in the hot seat with questions from reporters about how his character could possibly live up to the pot dealer's sordid reputation.

"When Graham asked me to be the villain on the show this year, I purposefully didn't want to watch what she did last year, or what everyone else was doing, because I didn't want to get nervous," he said. "Then I sat down last week and I watched the show now. Now I'm nervous."

Margo Martindale, of course, won an Emmy for this portrayal. Does Yost regret killing off her character?

"I don't regret killing Mags, but I do regret not having Margo around," the producer said, adding that his desktop background is a picture of Margo Martindale giving him the finger.

What about Raylan? Will he be slowed by his gun shot wound? Not really, Timothy Olyphant said, emphasizing the only real difference from last year is how much longer he's now forced to sit in the makeup chair.

As you might expect, a major focus of season three will be the love/hate/respect/who-knows-how-to-describe-it relationship between Raylan and Boyd. But while Olyphant believes these two despise each other, co-star Walton Goggins said he thinks there's genuine affection there.

Elmore Leonard penned the book on which Justified is based and Oylphant was asked if he and the author ever sat in the actor's trailer and discussed his character's development.

"A special bond between me and Elmore in my trailer?" Olyphant deadpanned. "That was the question, right?"

Joelle Carter's Ava, meanwhile, was left bleeding on a couch to conclude season three, but - spoiler alert! - she's alive and mostly well, save for a sling, on tonight's premiere.

"She's learning how to become the woman that can stand beside her man, to sit on the throne with who I hope will take Harlan over again," said the actress.

Finally, what about the major stork in the room? Winona is pregnant! How might this affect her desire for Raylan to slow down a bit and stay out of danger? Natalie Zea didn't give a lot of insight about her character's state of mind; only her state of cleavage.

"All they did was give me bigger boobs," Zea said of any changes we can expect from Winona at the outset of season three.

Justified returns with new episodes TONIGHT. Visit TV Fanatic the instant the premiere ends for a detailed review.

Tags: Justified, Interviews
From Around the Web