Mike & Molly Review: Everybody Wants Some, But Not Everybody Gets Some
by Lindsey Kempton at .
Let's lay the cards on the table: Mike & Molly is a sitcom, but that doesn't mean it should get a break when it comes to quality or content.
With smart and engaging shows like Community, Parks and Recreation, and Raising Hope on the air, Mike & Molly settles comfortably into the stereotypical sitcom category.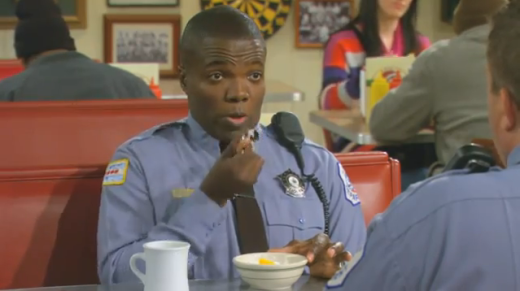 But at its heart, Mike & Molly isn't your run-of-the-mill sitcom. It features two obese characters falling in love, and arguing, and having sex, and living together, and doing all those things that previously only skinny couples or fat/skinny couples (think King of Queens) did on sitcoms. It's unfortunate that this was a slightly controversial decision in 2010 when the show first aired, causing some viewers to balk. It's also unfortunate that Mike & Molly's premise was more ambitious than the show itself turned out to be.

Like all programs, a sitcom's first job is to entertain and Mike & Molly does that reasonably well. Its situations are pretty formulaic, as with tonight's episode "Carl Has Issues." Everybody is getting some, except for Carl, who has trouble becoming intimate with Christina due to his abandonment problems. It's a nice wrinkle to Carl's character, and his confession to Christina steered clear of the uncomfortable off-target one-liners that the show sometimes throws out there.

Carl's recitation to Martin Luther King's "I Have A Dream" speech while his Grandma was waiting to shag her gentleman friend was borderline, but even she called him on it: "Time and place. Time and place."

For Mike and Molly, who have the house alone to themselves for the weekend, the time for sex is now and the place is anywhere they want. This week, the titular characters take a back seat and occupy the B plot so we get very little of them, which is a shame because McCarthy is often the shining comedic beacon amongst her duller costars. As many have observed, she carries the show, yet her talents are still underutilized.

The other characters are likeable enough, and tonight Christina stood out. She walked a fine line between too harsh and too forgiving and found a balance that seemed realistic. Carl's Grandma also stole the scene. There was some painfully forced dialogue when recollecting Carl's childhood, but her comedic timing throughout the rest made up for it.

"Carl Has Issues" was nothing special, but it wasn't terrible either. Mike & Molly has found it's niche, and with McCarthy's Emmy in tow, it seems satisfied with its place. But I can't help wanting something more for the show, sharper writing and more original plot lines to start.

What about you guys? Are you satisfied with how the second season is going? Read through the best Mike & Molly quotes from this episode now!

Tags: Mike & Molly, Reviews
From Around the Web