The fake Amanda Clark was not the only person to see a different side to Jack Porter at the conclusion of last week's Revenge.
The Jack Porter that fans of this ABC series have come to know would not put on a black suit and whisk away his girlfriend to Atlantic City. So might this be a sign of a new direction for the typically uptight bartender?
"Maybe," Nick Wechsler teased to me over the phone. "Down the road, we may see Jack doing things we didn't expect him to be doing. We'll see a darker side and that was getting the ball rolling on it."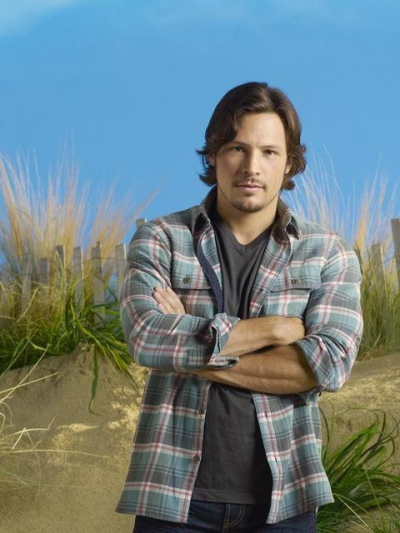 Interesting. If a few words of wisdom from Declan - and some same-sex-kissing from Amanda - simply get the ball rolling, where might that ball head when Daniel proposes to Emily? How will Jack to this development?

Wechsler played coy, hinting that Jack will be "distracted" when he learns of the news, while also admitting his heart will "sink a little."

But "he won't be able to feel the weight of it in that moment," the actor said, perhaps hinting that something goes down during his trip with Amanda.

Overall, Jack hasn't really been in on a lot of the action. He isn't scheming with Emily like Nolan, or plotting the demise of his soon-to-be ex, like Victoria. Does the actor himself grow restless? Is he jealous of those who are always up to something?

"I'm happy to wait for it," he said. "But I play a lot of dodgeball - because I'm seven - and you do just wanna be in the game. It's a bummer to watch from the sidelines."

It sounds like he might not be doing that for much longer.

Matt Richenthal is the Editor in Chief of TV Fanatic. Follow him on Twitter and on Google+.

Tags: Exclusives, Interviews, Revenge, Nick Wechsler