Remodeled Review: Allow Me to Re-Introduce Myself
by Leigh Raines at .
After taking an extended hiatus for personal reasons, agent Paul Fisher has returned to the modeling scene. In the Remodeled premiere, "A Latte to Learn," we find out why Fisher is back, along with his new mission.
Just a little bit of history: Fisher was a legend in the heyday of the "supermodel." He represented some of the world's biggest beauties, including Naomi Campbell, Stephanie Seymour, Brooke Burke, Kimora Lee Simmons and Carla Bruni. To put it bluntly, he knows his stuff!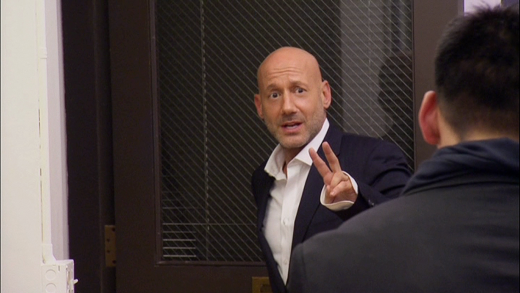 Upon Fisher's return he has different intentions. He wants to focus on bringing together small agencies from around the world, revamping them and having them join what he calls "The Network." In the premiere, we see Fisher and his team on their path to rebuilding. You see agencies that can't keep their clients, aren't finding the best talent and just not performing well.

The show has a bit of "Tabatha Takes Over" feel to it. Fisher and crew are coming in and gutting some agencies from the inside out. But, honestly, if it's going to help them succeed, then why not? Fisher can be harsh at times and seem a bit crazy, but above all he is passionate.

My only gripe with the show is that there is a lot going on and I'm not sure what the real focus is. Is it about helping the little guys in the world or finding new talent?

Fisher has another idea about promoting a healthier lifestyle within the modeling world filled with eating disorders and drug abuse. This I can truly get on board with. It seems like whichever direction Fisher decides to hone in on, he is doing it for the good of the industry. 

One thing I think worth noting is that there is an agency that focuses on Kaela Humphries, sister of Kris Humphries (aka ex Mr. Kim Kardashian). If they were still together, I'm sure the Kardashians would be promoting the crap out of the show. But with an industry vet like Fisher, I think Remodeled will find a good audience regardless!

Leigh Raines is a TV Fanatic Staff Writer. Follow her on Twitter.

Tags: Remodeled, Reviews
From Around the Web