No matter the season, you can't knock the Gallagher hustle. But as we find out in the Season 2 premiere of Shameless, "Summertime" is truly their prime.
Debbie and Carl are running a daycare, Lip and Ian are in a fight club, and Fiona and V snagged a gig at a ritzy club.Frank, per usual, is not pulling his weight but rather making idiotic bets and trying to hinder Sheila's recovery.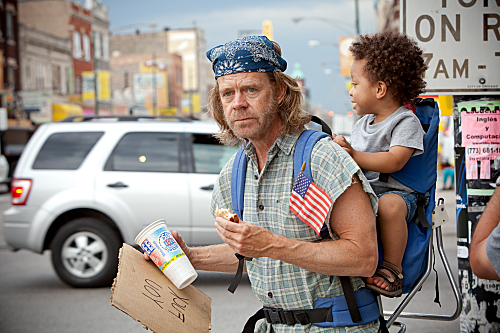 Much to my surprise, nobody knows what happened to Eddie. After last season's horrific suicide at the ice fishing hole, you would think perhaps there would be a lead on him, but there's just a few measly signs.

Every day that Sheila's makes literal steps to overcome her agoraphobia, Frank knows she makes it closer to the Alibi and closer to finding out the truth about what a scumbag he is. She will also likely find out that he slept with her teenage daughter.

Karen has gotten over her goth punk stage and is allegedly in Sexaholics Anonymous. All this really means is that she's not sleeping with her older boyfriend, Jody, from group, but she'll still get it on with Lip on the side.

It's odd to watch her seem so fine after everything she went through last season. I also simply cannot believe that Lip would ever forgive her for sleeping with his father. That's just beyond a point of comprehension. Then again, that's Shameless, turning the jaw-dropping moments into something entertaining and intriguing. Don't get me wrong, it's often disturbing, but pushing the envelope makes for interesting television.

I've saved talking about Mama Bear Fiona for last. As Emmy Rossum mentioned in our interview, she's still reeling from her breakup with Steve. Only she has moved on from the depression and into the rebound stage. Healthy? Who are we to judge? If it works for her, it works.

Things I loved: Ethel the mormon girl is still living with Kevin and V and has seemingly become a part of their family. Lip is still smart as a whip and has a friendship with that professor who wants to help him. Amy Smart is back as crazy, skanky Jasmine. 

Do we even need to get into how idiotic Frank is for making a $10,000 bet? He used his own child as collateral! The man will never change. All in all, I thought this was a tremendous welcome back episode for the Shameless crew. What about you?

Leigh Raines is a TV Fanatic Staff Writer. Follow her on Twitter.

Tags: Shameless, Reviews
Want more Shameless?
Sign up for our daily newsletter and receive the latest tv news delivered to your inbox for free!
More From TV Fanatic
On tonight's Gang Related, Ryan was forced to make a difficult decision. Which side did he chose?
On the latest episode of Satisfaction, Neil learns an important lesson about being honest with himself from Adriana while Grace struggles on her new job. Read on for analysis.
On Rookie Blue, Oliver turns down extending his contract as Acting Staff Sergeant until Duncan's dismissal hearing turns unpredictable. Read on for more.
On tonight's The Bridge, Marco is made an offer that he initially refuses. Will he agree to go after Fausto?
---