The Bachelor is back, and dare I say it, better than ever.
This is not to suggest that The Bachelor is a good show in the traditional sense. Now in its 16th season on ABC, the reality dating competition is often contrived, trite, formulaic, boring and a full hour too long.
Every. Single. Week.
With 15 seasons (and eight more if you include six Bachelorettes and two Bachelor Pads) under its belt comes a newfound sense of self-awareness and maturity, though ... however loosely the term applies.
Buoyed by blogs and social media, the franchise now enjoys better ratings than its heyday, when it still operated under the pretense of a fairy tale love story. Nowadays, it's more a caricature of itself.
Which, to millions of fans, is what makes it the show you love to hate, or just love. Either way, we watch, and tonight's season premiere was a prime example of The Bachelor not taking itself too seriously.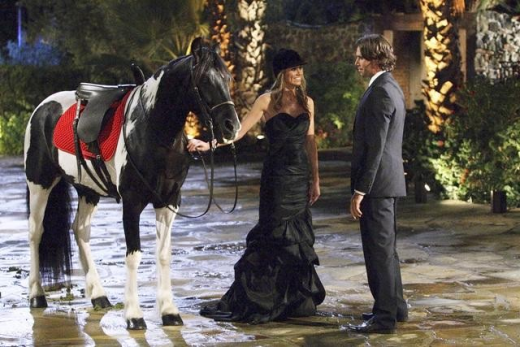 In recent seasons, the show has pivoted away from promising viewers an over-the-top love story - a woeful track record of lasting relationships is hard to ignore - to focus more on drama, laughs and in-fighting.
Sure, the lovely ladies still clamored for Ben Flajnik's attention tonight, and many of them would probably jump at the chance to date the California winemaker who was The Bachelorette runner-up last summer.
But people talk about The Bachelor spoilers that leak online, the spats between the contestants and the lengths they go to in order to stand out in a crowded field, and that's what ABC delivered unabashedly Monday.
We still go through the motions of Ben's back story, how he's grown as a person, etc., with host Chris Harrison (who has the easiest, best job on TV and seems to know it) guiding our star through the filler.
Mostly, though, we were treated to "getting to know you" montages and stunts from this season's crop of women that elicited many a chuckle or eye roll. Just what you'd hope for and expect, in other words.
Any pretense of "reality" was tossed out the window when horse-lover Lindzi rode in on a noble steed instead of a limo, or when Brittney's grandmother stepped out of the car to greet Ben on her behalf.
These are winks to the show's always-repeated, often-mocked blueprint: All 25 girls exit the limo to make their mark and win the First Impression Rose. The writers are just coming up with ideas for them now.
Equally obvious, but no less entertaining, are the way certain women are portrayed.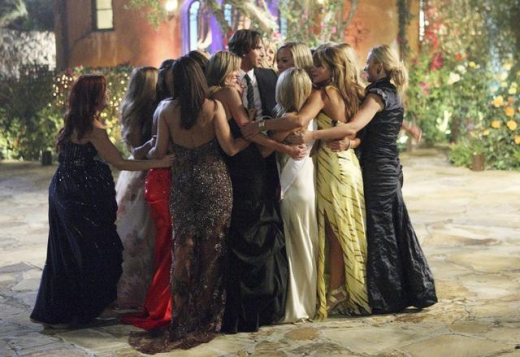 Model Courtney, for example, is clearly being set up as the uber-confident, gorgeous enemy of the rest of the house - who embraces that role. Monica? She's just there to mess with people - especially Jenna.

One of the highlights of the premiere came when Monica basically admitted she had no feelings for Ben, but she is into women, one of whom she got very cozy with. The other girls? Baffled and mortified.

That's a new one. Did the producers prompt her to do that or did she go on the show just for kicks? A combination of both? It doesn't matter, because it led to some great drama ... accept it for what it is and enjoy.

Even Ben himself takes the show just seriously enough, embracing the position he's in for the right reasons (so to speak). He was legitimately upset to be rejected last season, but didn't pretend his life was over.

Unlike previous Bachelor stars, Ben seems quite at home in the starring role. Nervous to be around 25 gorgeous women, but also laid back and amused at the situations being thrown at him one after another.

This winter, he's looking for true love. Ashley helped him come out of his shell a little bit and he's ready. If that happens on The Bachelor, so be it, but either way, it's going to be an amazing experience.

One that he, and viewers, aren't likely to be disappointed by.

He seemed to connect well with Lindzi, who won the first impression rose, as well as Courtney, whose seductive powers seemed to win him over from their first meeting. It'd be surprising if she didn't make it far.

Beyond that, 16 others survived. Who will Ben forge a connection with next week? Who will try to claw another contestant's eyes out? Who will become jealous? Sound off in the comments below.

Steve Marsi is the Managing Editor of TV Fanatic. Follow him on Google+ or email him here.

Tags: The Bachelor, Reviews