On The Finder this week, Ira enlisted Walter's help to find the Cinderella who captured his heart when they met at a bar. Elsewhere, Leo and Willa ran into the man responsible for the death of his wife and daughter. When curiosity got the best of Willa, it caused a riff in her relationship with Leo that she was desperate to reconcile.
In both cases, fatal attractions almost cost both Ira and Willa, the former to his illusive Cinderella and Willa to her wandering mind.
One thing is for sure: "A Cinderella Story" certainly felt like a fairytale, which made it a little difficult to take the installment seriously.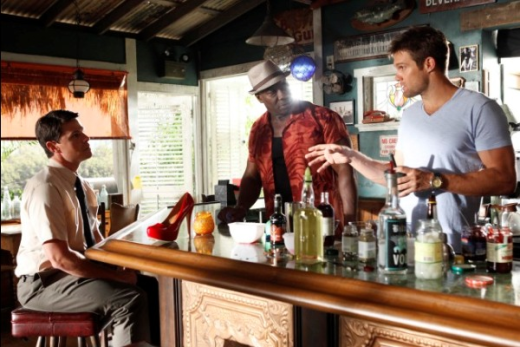 Even as the show enters its third week on the air, The Finder is struggling to find its stride. Consequently, this also means that The Finder is struggling to capture my attention with a riveting plot that engages me such that my brain is completely incapable of distraction. Unfortunately, the exact opposite is occurring.

Each week it feels like someone different is at the helm of the storytelling, and you can never quite be sure just what it is that's going to come out.

The last thing I expected was a serial killer femme fatale on this one. The way the previews made it sound, NASA seemed to be the central theme that I expected to play more of a role than it did.

In fact, it seemed counterfeit footwear became the star, given the connection to Cinderella. This plot was so ridiculous I would prefer not even to discuss it. The tazing was absurd and quite frankly dangerous in real life and need not be promoted in any way in prime time television. The rest was far too outlandish and totally creepy. Not only that, but it was accompanied by a cheesy dream about Walter placing a shoe on Isabel's foot.

That said, one moment I liked very much was seeing Isabel giddy in the shoe store. I can understand her excitement. We women love our shoes. We own more pairs of shoes than we probably have outfits. At least, this has been my experience, and it shows no signs of stopping. By extension, I was also sucked into the moment a little bit when Walter told Isabel that the "kind of pretty she was" had nothing to do with her shoes. Very sweet, Walter.

Disclaimer: I am in no way, shape or form promoting a hookup or eventual shipper name. I simply appreciated that Walter took a moment to compliment her.

Here's one piece of evidence to support that claim: She deserves someone who isn't crazy, and won't act that way in public. What was up with that tirade about how high heels somehow contribute to the objectification of women? Whether it's true or not is beyond the scope of this review, but how unnatural is it to bring something like that up so obnoxiously in the middle of a shoe store, counterfeit or not?!

The one thing that even remotely saved this episode from ranking a full on zero for this week was the storyline that centered around Willa and Leo encountering Michael Stein. We knew something terrible had happened to Leo's family. But is there anything less dramatic and more pitiful than attributing their deaths to E Coli poisoning?

I understand that it was Michael Stein's decision to allow the poisoned meat to be distributed for consumption, but I thought we had at least come up with some ways to manage and treat this kind of poisoning? I am not a scientist, so please feel free to correct me if I'm wrong.

The real problem here is that the writers not only chose to divulge this information early on in the series in the least dramatic or cleverly crafted way possible, but then they made Willa act like a jerk, made it about her somehow and then allowed her the chance to make it up, which she did by essentially beating Michael Stein to death. Something feels very wrong with this picture...

None of these elements boded well for the show this week in presentation or even execution, and the most troubling part is it feels like the real culprits are the writers. They need to think of something to save this sinking ship because it is sinking... quickly.

C. Charles is a TV Fanatic Staff Writer. Follow her on Twitter.

Tags: The Finder, Reviews