White Collar delivered another edge-of-your-seat installment this week, with one major exception: Elizabeth Burke played a critical investigative role that really got her into some trouble.
But leave it to the "Neighborhood Watch" - consisting of Neal, Mozzie and Peter - to have her back... though some more readily than others.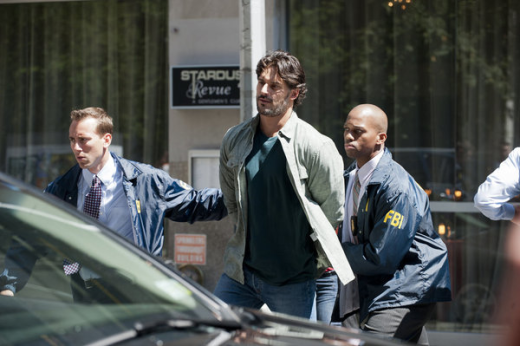 This episode really felt like the Rear Window of the 21st century, complete with police scanners to overhear a dastardly plot unfolding instead of a murder. And it made for a great hour.
Putting Elizabeth at the center was simply icing on the cake. I love nothing more than to see our beloved Mrs. Suit in action. It definitely wasn't hard to root for her from beginning to end.
She took some serious risks. I could not have been any more anxious for her during the sequence when she was locked inside that room on the second floor of Ben and Rebecca's house. I love that she waved a white handkerchief out the window to get Neal's attention, and that he was at the ready to assist. Even if the assist did result in a stern rebuke for Mr. Suit, who was none to pleased to be the patsy in this plot.
I didn't realize how exciting an episode could be simply from choosing to put different personnel at the forefront. In a lot of ways, it wasn't different that Neal and Mozzie were helping a Burke, it was just which Burke that made the difference. And the difference certainly showed. We know Peter wouldn't pack Neal and Mozzie a practically gourmet stakeout meal. No one would.
Elizabeth's (and Satchmo's) choice to call on Mozzie reminded me of the special relationship these two share. If there was ever a single person with the ability to put Mozzie at ease in some small way, it was always Elizabeth. I will never forget Elizabeth going to see Mozzie in the hospital in "Burke's Seven." Definitely one of the more memorable moments between the two, but this episode added to that list.
We've really been seeing some great relationship moments between all the characters on the show in this part of the season. Keep it coming!
And speaking of coming: when will Hilarie Burton return in that series regular spot I was so excited about?! With only two episode left before the finale, will we have to wait till Summer to see her back in action?
Other episode highlights:
Neal's street clothing? A little grungy for my usual taste, but seeing him in something different is always welcome.
Peter's distaste for quinoa was thoroughly entertaining. I'm more meat and potatoes as well!
Have you ever thought your neighbors were up to no good? What did you do?

C. Charles is a TV Fanatic Staff Writer. Follow her on Twitter.

Tags: White Collar, Reviews
Want more White Collar?
Sign up for our daily newsletter and receive the latest tv news delivered to your inbox for free!
More From TV Fanatic
On Perception, Daniel and Kate investigate an art heist. Also, Daniel must make a decision about his love life.
Things on Pretty Little Liars looked pretty darn bleak this week as Hanna's friends started to get sick of her but Zack couldn't get enough. Read the review for more insight into the latest installment!
Evan, Paige and Bob confront Russel about his rug theft, while Divya and Jeremiah treat a woman desiring to be a mom. But were those all the surprises the Hamptons had to offer? Read our review of "I Didn't See That Coming" now!
On Chasing Life, Leo makes wishes come true. Elsewhere, Brenna meets her other sister, discovering one more family secret. Read on for more!
---