Even when Hank tried to do a selfless act and help out the man who stands between him and his one true love, he wound up in trouble. This week's episode - "Here I Go Again" - showed that Karen really does know Hank better than anyone, as he proved right her accusation that everything he touches "turns to shit."
Karen putting down Hank is nothing new, but to see Becca so angry with him was some serious hurt for Hank. 
Not helping his cause was Holly, who despite her great taste in music was a walking disaster, realist or not. The most surprising result of the whole Bates mansion melee was the emergence of Tyler as Hank's seemingly best ally. Their relationship looked like it took an interesting step when the young suitor asked Hank to read his screenplay. Scenes from next installment revealed that the kid actually has some talent.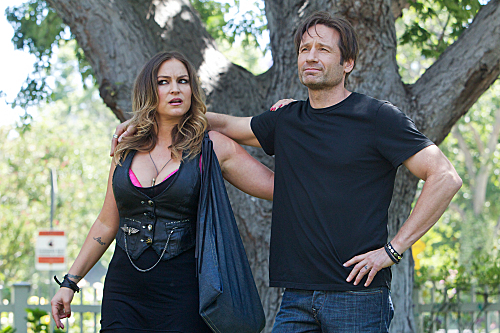 Hank definitely has a friend in Richard but he did not look like he was going to be much of an ally worth coveting. While I rather enjoyed the moments between the two lovers of Karen, the laughs I fear will give way to tragedy as this storyline can only end poorly for the off the wagon addict. 

Luckily, we had the gorgeous Lizzie to lighten things up. Stu was treated to a real life Phoebe Cates moment. Only thing that could have made that scene better would have been for The Cars's "Moving In Stereo" to be playing in the background. It seemed pretty clear what Lizzie's motive was in sleeping with Charlie, but even more apparent was that the Runk did not care. Personally I was very happy for our little bald buddy. 

With his agent busy with what should prove to be his new client, Hank will surely find himself once again walking alone, but as we saw in the scenes from next episode, he soon will gain his old drinking buddy Eddie Nero. The use of Whitesnake to close out the episode was a none to subtle but fitting song for our hero. Do you think he and Holly spent the night lap dancing and listening to GNR? Guess we'll find out on March 4.

Tags: Californication, Reviews