Jane By Design Review: Wear Who You Are!
by Carla Day at .
"The Image Issue" was my favorite episode of Jane By Design. Instead of Jane trying to fix a mistake the whole hour, we got to see her utilize her school life to help her at work. Plus, the set up allowed for the supporting characters to finally get some decent airtime.

Last week left me annoyed at Billy for being Jane's "lackey." He was constantly dropping everything to help her. Here, he finally called her out on it. Way to go, Billy! I wonder if his dedication to Jane was purposefully over the top last Tuesday in order to set up this heart-to-heart between the two.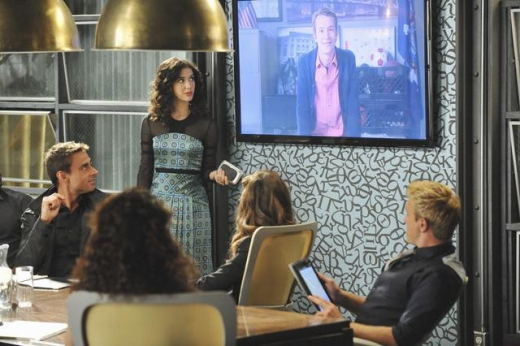 I cheered when Billy said, "Can't you just be there for me once?" And... Jane was there. They really are good friends. Friendships will have ups and downs for each person, but when it counts, they support each other. A friendship like Billy and Jane's should be treasured.

The theme of the episode was about being true to who you are. Jane has no censor button and openly criticized India's line. No wonder India doesn't like Jane. Jeremy was correct when he somewhat lectured Jane that you don't throw your collegues under the bus. Though, if that had been Jane doing the presentation, I'm not sure that India wouldn't have done the same thing. The difference is Jane was being honest and India would have done it out of spite.

Unlike many of the storylines on this show, Jane's interviews with high school students about fashion didn't come across as contrived at all. I loved it, especially when Ben got his students to help her out. What an awesome brother!

I hope Jane spends more time at school because it created some awesomely awkward situations. In this case, mostly because India was there. Jane and Billy in the men's room stall together. And Nick finding them. Then, Jane and Nick hiding out in the supply closet together. The India versus Lulu fashion standoff was also a highlight.

What do you think about Billy's new look? I'm not sure he changed for the "right" reason, but it was a path he needed to take to validate himself. Unfortunately, as the episode showed, in the real world your appearance matters. If you look like a punk, people see you as a punk. If you dress conservatively, you are seen as more trustworthy.

I loved Billy's old look, but he definitely cleaned up very nicely! He was hot! In high school and in life, sometimes, it is important to fit in. Will Billy be able to maintain his own personality with this new look or will he change who he is to better fit in with his new look? If he does that, it would be a shame.

In a way, Billy's new transformation isn't that much different than Jane's. She has lost some of her quirky style now that she is working in high fashion. But she hasn't lost her individuality in the transformation and hopefully Billy won't either.

What an ending: Jane got the guy! Did you squeal a little when Nick said that he liked weird and then kissed Jane? What a smooch! Wowser! I know there are some Jane-Billy shippers out there, but you can't deny that Jane and Nick are great together, right?

With India kept in the dark about Jane's secret, do you think she is safe for now? Or will Jeremy put together the clues? I'd rather have Jeremy figure it out than India. It could make the show more interesting to have both Billy and Jeremy in on the secret. A helpful friend on both sides!

Carla Day is a staff writer for TV Fanatic. Follow her on Twitter and on Google+.

Tags: Reviews, Jane By Design
From Around the Web