Our NCIS review broke down the latest installment of television's #1 show in great detail.
Now, TV Fanatic staff members Steve Marsi, Matt Richenthal and Eric Hochberger have assembled for their weekly Round Table Q&A discussion of events from this week's episode, "Psych Out."
Join in below, as we analyze Jaime Lee Curtis' character, Gibbs' psyche and more ...
----------------------------------
Describe this episode in one word (or two, or three).

Steve: Psychologically combative.
Matt: Different, but solid.
Eric: Excellent, intense.
What was your favorite one-liner from the episode?

Steve: Gibbs asking Vance if he spent "private time" with Ryan at school. It's precisely the kind of question Gibbs would just walk away uncomfortably from if the situation was reversed, and he seemed to revel in that.
Matt: Gibbs saying "goodnight" to Dr. Ryan after finding the bug in his basement, then promptly smashing the thing. Not really a one-liner in the zinger sense, but a vintage Gibbs reaction.
Eric: "You're not from accounting." Or basically that entire exchange between Ryan and DiNozzo.
Best scene?

Steve: Eric makes a good point below. My second favorite was probably a series of scenes, with McGee out of his element and scrambling to do detective work without the aid of phones or computers. Old school. Reminiscent of "Power Down" and always fun to see the team in action without the technological tools that are exaggerated for TV anyway.
Matt: Gibbs confronting Ryan, both at the school and at the party. "I like parties, when there's something to celebrate" was a great retort after his hooded overcoat was dissed. Those two know really how to push each other's buttons. Cut from the same cloth, you could say.
Eric: Can we change this to second best scene so our answers actually vary? It's obviously Gibbs confronting Ryan at her son's school, smiling ever-so-slightly knowing he's regained the upper hand, or at least leveled the playing field. Sometimes saying nothing says everything, and with her flustered reaction, what more was there to add?
Gibbs and Ryan: Do you see the connection?

Steve: In a romantic sense? I expressed plenty of skepticism in my NCIS review Tuesday night about why that might not work. That being said, I thought Jamie Lee Curtis was terrific and I'm already looking forward to the March 20 episode when she returns, so that says a lot. JLC and Mark Harmon have such a great on-screen rapport and watching them square off - and then team up - was a treat.
Matt: As the old adage goes, you do not do pancakes with the woman who bugs your home. No, in all seriousness, for all the talk about how Gibbs and Tony love powerful women ("there's nothing more attractive than a woman with a gun," etc.), remember that the true love of Gibbs' life did not fit that bill. Time to look outside federal agencies for love, Jethro.
Eric: Hey, why not! At least it's someone his own age. JLC is awesome with MH as Steve said, and she proved she isn't all bad. On second thought, she's not redhead, unlike Borin ... who I love and who's also at least 20 years younger than Gibbs. Now that I've completely undermined my own argument, next question please!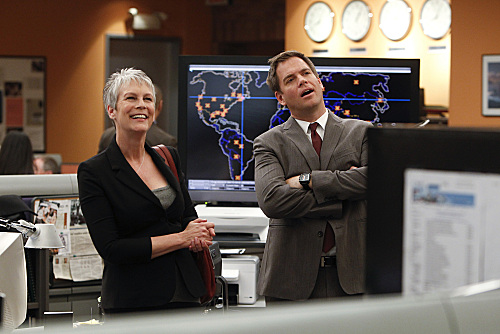 What, if anything, was out of place this week?


Steve: Dr. Rachel Cranston. Her first episode was terrific, but here she was largely overshadowed and her connection to Kate - her original reason for being introduced - had no special relevance this week.

Matt: Team interaction. Everyone has their moments, but I feel the show has been lacking a bit in terms of true team building and crime-solving of late, with episodes focused predominantly on 1-2 characters. Don't get me wrong, those episodes have been good, but I guess I'd like to see more of a balance in coming weeks.

Eric: Steve's right about Rachel. I like her character and how we were introduced to Kate's sister, but bringing her in alongside another major guest character felt out of place. Also ... Abby! I miss my girl. And finally, a lack of Activia plug. That would have just been hilarious ... though it's probably best for the show's integrity that there wasn't one.

Any additional observations?


Steve: Gibbs was a little more alive this week, perhaps coming off the 200th episode. For much of this season, he's been a bit morose and angst-ridden. He was paranoid and uptight, for sure, but only because of the case. He seemed to get his mojo back a bit, even when faced with an adversary who challenged him so much professionally.

Matt: I love NCIS, but it has to be careful not to make its plots too soap-like. Right now, the balance is strong in that the "fantasy" of certain relationships (namely Tiva, but also Gibbs/Ryan) lingers but does not overshadow the bulk of the program. As I said in my previous answer, it's all about the team and their work, with personal anecdotes and sprinkled in and evenly distributed.

Eric: Good dialogue, interesting plot, believable character development ... it's why we watch.

What's your take on these issues of the week on NCIS? Discuss below!

Steve Marsi is the Managing Editor of TV Fanatic. Follow him on Google+ or email him here.

Tags: NCIS, Round Tables