The latest episode of Once Upon a Time may have been titled "What Happened to Frederick" but the question I really wanted answered was this: What happened to David? Honestly, I think I liked him better when he was in a coma.
Even after the Valentine's Day debacle, David was still waffling between Mary Margaret and his life with Kathryn. Was this part of the curse of Storybrooke? The brave and honorable Prince Charming became this cowardly adulterer? Ugh.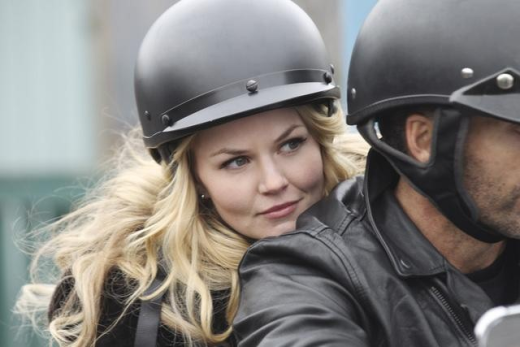 Mary Margaret was right. What they were doing wasn't about love? Lust perhaps. Deceit, most certainly. Kathryn had every right to be furious. 

If David had told her the truth, it would have hurt like Hell but at least it wouldn't have given Regina the power of revealing his final betrayal. And why did Mary Margaret seem to be taking the brunt of the blame? Why didn't we see people shooting snarky, disapproving looks at David?

In the fairy tale world, we saw Prince Charming and Abigail working together - and what a difference that made. I liked that Charming asked her if she'd used love's true kiss to break the spell. I suppose that's a well known cure in this universe.

Charming fought off the siren, remained true to his love and returned Frederick to Abigail. Then, he was off to fight for his own true love. What a contrast to the weaselly way David had acted in Storybrooke.

Speaking of Storybrooke, the mystery writer finally revealed his name: August W. Booth. 

Does anyone have any idea if that name is a clue to his intentions in Storybrooke? If there's a hidden meaning in it, I can't seem to find any, but it says something about this show that it's made me ponder a simple name.

I loved that August took Emma out for a drink to a magic well. How apropos. Of course, was it all part of his plan to return the book to her? It certainly appeared that way. But that doesn't explain how he knew about the well in the first place. How does this stranger know Storybrooke so well?

So... was anyone else holding their breath as Kathryn drove toward Storybrooke's border? What do you think happened to her when she got there? Did August change the story in Henry's book? And was Mary Margaret right to leave David? Thanks to next week's Oscar telecast, we've got until March 4 to ponder the fates in Once Upon a Time.

C. Orlando is a TV Fanatic Staff Writer. Follow her on Twitter.

Tags: Once Upon a Time, Reviews
Want more Once Upon a Time?
Sign up for our daily newsletter and receive the latest tv news delivered to your inbox for free!
More From TV Fanatic
This week on The Last Ship, Danny gets sick and the crew begins to panic. Is it the virus? Meanwhile, Rachel's vaccine trials continue to fail.
Who was able to successfully problem solve on The Rachael Ray Show this week? Find out now in our review of Food Network Star.
The Masons are reunited on Falling Skies Season 4 Episode 6. Will it be a happy or contentious reunion?
What took place on The Real Housewives of New Jersey Review this week? Read our rundown to find out!
---