As Holden Strauss on Pretty Little Liars, Shane Coffey has been exposed to a whole new realm of recognition, some of which he refers to as "embarrassing" and and some "flattering" he told me on the phone this week.
But the adoration of the PLL viewers isn't what the actor enjoys most about his time on the series.
That would have to be working with his Troian Bellisario, who Coffey has known for "about seven years." It was Bellisario who introduced Shane to the book series when she landed the role of Spencer and it's Bellisario with whom Coffey hopes to share more scenes in the future.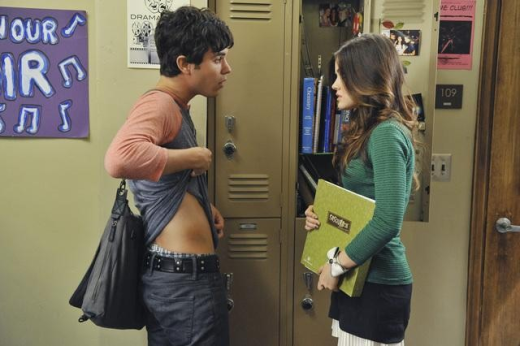 What has surprised Coffey the most about his run so far?

He said it was interesting fans were convinced "he was going to break up Aria and Ezra" or that he was gay. Neither is true, though viewers will need to wait until next season to learn more about Holden, who the actor decribes as "sort of an outcast."

That's probably what Coffey admires the most about the show, how it's "very accepting of all types of people." In fact, he thinks the show "could go further with it," as the teen-centered drama really highlights the differences between people, which he feels is "very important today."

And as for the mystery of A - to be revealed on the season finale - Coffey is totally really is unable to reveal any hints he may or may not have about his/her identity. He jokes that he would probably be escorted off the set and "have his tongue cut out by Mickey Mouse" if he spilled a single bean.

While Coffey doesn't know yet what Holden will be doing in his Pretty Little Liars future, he was been working on a few non-ABC Family projects. He and Bellisario actually starred in a short film, written by the latter, called Exile that explores the question: "What would happen if Romeo and Juliet never committed suicide?"

He's really excited about the movie, saying "as a young person, you see through rose-colored glasses," and you fall in love even though "you might not know the person you're with." It's a pretty fitting project given their involvement in show that seems centered around teenage heartbreak. The project is still in editing, but the two hope to show it around in film festivals.

In addition, look for Coffey in guest-starring role on CSI.

Tags: Exclusives, Pretty Little Liars, Interviews