"Peaches" was the nickname given to Lena by her father, Russ. I can't believe it took this long to show who her father was. Russ was played by Lee Tergeson. Somehow he's gotten as much respect for his part in The River as his character: None.
Finally, someone asked why in the Hell Lena plays the accordion! Her dad wanted her to be a boy, and if not a boy, then a nerd who plays the accordion so nobody would ask her out. Kind of a cute story.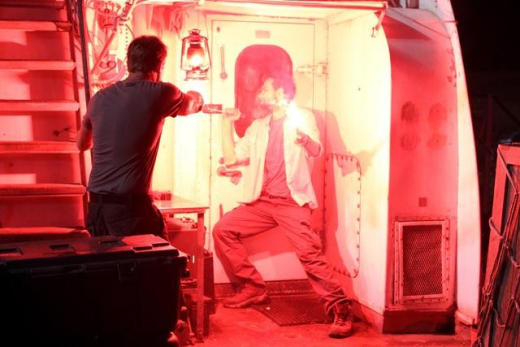 That's the genesis of finding out who he was. Bringing the new cameraman, Jonas, on board was for more than just laughs, which he has definitely provided. He also gave Lena someone with whom she could talk about her father instead of everyone just worrying about the famous Emmet Cole.

Nobody has really given two hoots about her loss, and that's pretty darn sad. Jonas even found her video of her father. Isn't it hard to believe that not one other member of the crew ever thought she might be thrilled to see that?

The single best thing to happen The River in its episodes so far was finding Jonas hanging in that tree. His character has brought a whole new perspective to the show. Lena needed someone to identify with, and we needed someone else from the inside of Emmet's crew to keep us believing there was a reason to move on. He's provided both, nicely.

The same boat that sideswiped them was the one that rescued them. I knew that pretty much as soon as it showed up, but didn't expect the people on board to be ghosts. Or whatever they were. Most surprising was the discovery of Russ, held captive in chains.

In the end, there was no rescue for Russ and no happy ending for Tess. Just as it wasn't a surprise the ship was the same, he had become one of those creatures stuck on the boat. His soul was freed by the person he loved most in the world, his daughter. His Peaches. Exodus was more than just the name of the ship, it was the end of Lena's search for her father.

The brief first season, the quick discovery and death of Emmet's best friend and Lena's father, I wonder if it was always expected to be a short series. I don't think the ratings will bring a second season of The River, and I doubt we'll ever find out what happened to Emmet Cole. That's too bad. Could it be that more people would be watching if Bruce Greenwood were a bigger part of the program?

We may never know, or we may get lucky and find The River staring at us from a slate of summer programming next year.

Carissa Pavlica is a staff writer for TV Fanatic. Follow her on Twitter and on Google+.

Tags: The River, Reviews
Want more The River?
Sign up for our daily newsletter and receive the latest tv news delivered to your inbox for free!
More From TV Fanatic
On Murder in the First, Cindy's husband ends up dead and that forces the police into overdrive. Will his confession hold up?
On tonight's Under the Dome, Rebecca wants to release a deadly virus into the population. Will she do it? And how many would die?
Fritz is offered a new job with the LAPD on this episode of Major Crimes. Read on for more.
OnMistresses, Joss tries to stop Harry from going back to Australia, Karen faces a dilemma involving her lover and a patient, April has a crisis of conscience - and Savi says goodbye to her home.
---