John Blackwell is back. This was the most significant development to come out of "Return," the final new episode of The Secret Circle until March 15.
What did our Round Table trio of Matt Richenthal, Carissa Pavlica and Carla Day make of the installment? Of Cassie's father's arrival? Come along as we dissect the hour below and answer the most pressing questions related to it...
-------------------------------------------
What was your favorite scene from the episode?
Matt: Melissa partying on her own, if only because it was refreshing to see this character involved in a storyline outside of Faye. She might be my favorite member of the coven and I relaly hope the series explores Melissa a lot more.
Carissa: Cassie and John talking on the dock. First of all, they don't use the dock and the water nearly as often as they should, considering the town they live in, and the setting felt right for their discussion. They seemed eager to speak, and yet they were holding back, which exactly what I would have expected from such a meeting.
Carla: It was terrifying to see Cassie acting without will to kill her father, but intriguing as well. If Cassie is so powerful, why didn't that spell work? Or did it? She was able to overcome it with the help of her circle. Though I wonder if she could have done the spell on her own if she would have thought of it.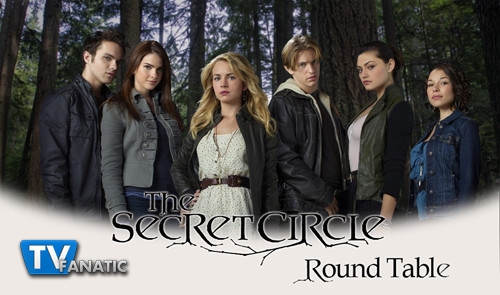 Did the arrival of John Blackwell live up to expectations?
Matt: No. I'm tired of the mystery, of the questions over who is good, who is evil, what various agendas are. It's practically the same every week and I was hoping Blackwell would establish an actual side here. We need to know who is going up against whom, not just be teased each episode with just the general idea of shadiness in Chance Harbor.

Carissa: I'd say it bypassed my expectations. I was ready for all hype with little payoff. But he has clearly been in the dark with regard to what has gone on around town. He doesn't know about the older generation regaining their powers, he has lost his, he doesn't know his daughter.... there is a lot going on. And he's hot. Hot is nice. I'm digging the hot parents on The Secret Circle.

Carla: Not really. I was expecting his entrance to be more dramatic. Instead, he just... showed up. And so far he hasn't done much. While his arrival was a bit of a bore, I expect that to change.

Hotter Faye makeout scene: Lee or Jake?
Matt: I will leave this question to the ladies, but I can at least say I found the scene between Faye and Jake to be far sexier. But that's because Faye was also topless.

Carissa: Jake has never done it for me. The way Lee kind of got all soft, and yet you could tell there was something dark lurking underneath, just before he took Faye in that kiss? Swoon!!!

Carla: Hmm ... this is a difficult call. Faye and Jake were hotter in a pure sexual sense, while Faye and Lee were hotter in the sensual, chemistry sense. I'd rather see more of Faye and Lee!

Make one bold prediction for the conclusion of season one.
Matt: Faye will be revealed as the other Balcoin offspring. Remember that storyline from the fall finale? I wonder if the show does.

Carissa: John Blackwell will get his powers back and hold the other parents accountable for putting the families and their own children through Hell this season.

Carla: Oh, this is difficult. Unlike The Vampire Diaries, the storylines of The Secret Circle are so unclear. I really have no idea what direction the show is going in. In some ways it is good in a mysterious sort of way, but it also is annoying. What is the end game ... even in the short term? Honestly, I just can't come up with anything. So, I'll go with someone will die. And, to be bold, I'll go with Cassie.

Tags: The Secret Circle, Round Tables