The fourth edition of The Voice's Blind Auditions was highlighted by a number of strong female vocalists. Naia Kete, Charlotte Sometimes, and especially Mathai had me intrigued from their first notes. Who did you think was the most impressive from this week's installment?
Two things from this week's episode need to be noted before getting to the actual auditions:
I will never get tired of watching Blake Shelton bow to the audience after making a comment they enjoyed
Carson Daly aggressively cheering for every contestant to get picked while back stage with their families is the funniest thing about this show.  I can't tell whether he is sincerely rooting for every single performer, or if he's just feigning it for their friends.
Now let's get to the teams, which are starting to fill up. With only one Blind Audition episode left, every team either needs two or three contestants to fill its squad.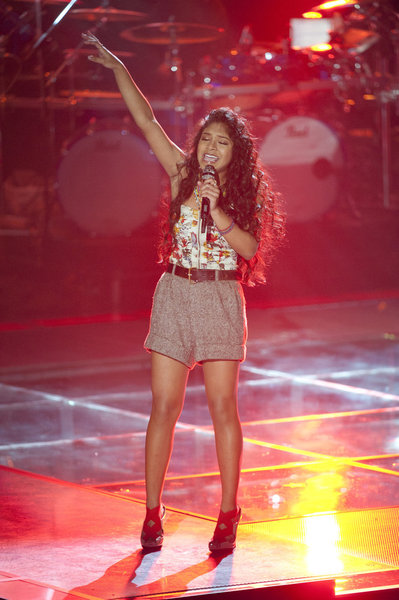 Mathai sings for the coaches, eventually choosing Adam Levine.
Team Adam
Current Members: Tony Lucca, Kim Yarbrough, Angel Taylor, Pip, Katrina Parker, Chris Cauley, Nathan Parrett.
New Additions
Like I mentioned at the start, Mathai was my absolute favorite of the night, and maybe the best audition thus far. She showed vocal strength, a great falsetto, perfect control, nice tone, she had fun on stage, she showed some sass, and took a fantastic Adele song and made it different. Is there really anything more you could ask for? 
Adam also picked up Nicolle Galyon, who wants to be the first country music piano girl. She seemed to have the piano thing down pat, but Adam was the only coach to turn for her singing, and a number of them commented on her nerves being an issue. I thought she sounded great, so if she controls her nerves, it might have been a steal for Adam.
Karla Davis, who we saw very little of, was the final member of Team Adam to join the squad this week. Adam stayed pretty even with his success rate, now having 10 team members on 17 turn arounds for 58.8%.
Team Xtina
Current Members: Jesse Campbell, Chris Mann, The Line, Lindsey Pavao, Geoff McBride, Moses Stone.
New Additions
Christina got off to a quick start this week, pulling in Jonathas and Monique Benabou before anyone noticed. For as much as all of the coaches kept saying Jonathas's "You Got It Bad" sounded exactly like Usher, I thought it was noticeably weaker than the original. Monique, while also not being all that impressive vocally, wins the prize for best name on The Voice this season. Try to say Benabou without smiling. I dare you.
Ashley de la Rosa and Anthony Evans also impressed Christina enough to get her to turn her giant red chair around, but the latter is the only one of the two that we got to see any of.  Anthony's "What's Going On" was good, but I don't think anybody was jumping out of their seat about it.
Christina had a very successful day in terms of percentages, but I don't like the quality she brought in this week. These new additions won't make a dent next to the few she added in weeks past.  Xtina did catch up to Adam, though, now with 10 team members on 17 turn arounds for 58.8%.
Team Cee Lo
Current Members: Juliet Simms, Jamar Rogers, Angie Johnson, Sarah Golden, Erin Martin, James Massone.
New Additions
You have to give Cee Lo credit for his strategy in this game. He's like the guy that hits on every girl in the bar, hoping that one of them says yes to a date. Cee Lo has now turned his chair around 25 times, and has nine team members to show for it. That is good enough for a 36% success rate.
He was the only one to turn around for two of his three team members from this week. No other coach wanted Tony Vincent, the Broadway star, or Justin Hopkins, the former guitar player for Carson Daly's late night band. Of the two, Vincent has the more obvious vocal talent, but this might not be the correct place for him.  He gave off a very Broadway vibe during his "We Are the Champions," so maybe that's where he belongs. Hopkins, on the other hand, was much more subtle, but didn't prove to have a very powerful voice.
Jamie Lono, although very bad at pretending to be surprised when Carson brought him his hand-delivered letter, was Cee Lo's best pick up of the night. His "Folsom Prison Blues" was interesting if not spectacular. He is definitely something different, but only time will tell if that is something that can carry him in this contest.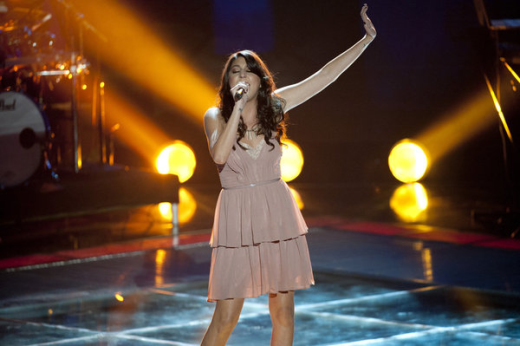 Charlotte Sometimes joins Team Blake after belting out "Apologize."

Team Blake

Current Members: RaeLynn, Gwen Sebastian, Jermaine Paul, Erin Willett, Joris Unga, Brian Fuente.

New Additions
Naia Kete is a street performer. The fact of the matter is that sometimes I walk down the street, hear some pretty darn good singers, and think about how they might do on one of these reality competitions. Well, we will find out with Naia, who belted out a great combination of cutesy and power during her rendition of "The Lazy Song."

Then there was Charlotte Sometimes, who has the privelage of a last name that can be turned into so many bad jokes so easily. She is Charlotte Sometimes. Hmm... who is she the rest of the time? Zing!!! In all seriousness, though, she had great tone, tons of power, and a nice falsetto during her "Apologize." What was with that weird accent though? I know she had that disease that caused an issue with her jaw, but I didn't notice anything in her speaking voice. When she sang, though, it sounded very strange at times. I hope that's not something that hurts her moving forward.

Blake also picked up Jordan Rager and ALyX during the quick montage. Oh, and yes, those capitals in ALyX are seriously how it was spelled. Blake had a great night going four for five on turn arounds, improving his totals to 10 team members on 20 turn arounds for a 50% success rate.

----------------------

A number of good singers, interesting stories, and mustaches did not make it past the Blind Auditions yet again this week. My favorite was probably Erick Macek, who did a nice job with "Free Falling" without making it remind me of Tom Cruise in Jerry Maguire.

Did the females get you all excited this week like they did for me? Or was it one of the gentlemen that have you ready for the Battle Rounds?  

Who had the best audition of the night? And what team are you rooting for as the Blind Auditions wind down? Take a look through our The Voice photos and The Voice quotes pages and prepare for the final auditions next week.

Dan Forcella is a TV Fanatic Staff Writer. Follow him on Twitter.

Tags: The Voice, Reviews