Last week, fans of Once Upon a Time were treated to the creation of the Mad Hatter. This Sunday? We'll find out if evil is born or created.
"The Stable Boy" will feature guest star Barbara Hershey as Mommie Dearest to the Evil Queen and I asked the veteran actress yesterday what it's like to portray the parent of fairy tale land's resident bad girl.
"Well, she's an evil mother." Hershey laughed. "She's even more evil than the Evil Queen, I think. So it was a lot of fun. It's fun playing characters like that."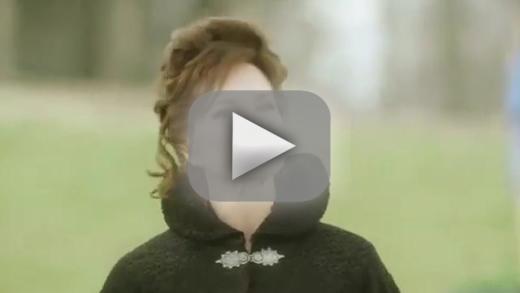 Was Hershey a fan of Once Upon a Time before she took on the role?

"I hadn't watched it before I was cast, but as soon as I was, I watched it all and really got addicted and taken away by it."

After a marathon viewing of the entire season, it sounds like she's in the same position as the millions that tune in each week, pulled into the mythology that surrounds Storybrooke.

"I think it's really a lot of fun and really interesting but it's about something too," Hershey said. "There's a lot of fuel under those fairy tales about humanity and all of its guises. It's a rich tapestry to have a series hung on."

Speaking of tapestry, does Hershey get to wear the cool costumes like her onscreen daughter dons each week? She chuckled at the suggestions.

"She has her own particular queen-like look," the actress said. "The costumes are fantastic and considering the time constraints the [costume designer] is really a genius. I couldn't believe how he was whipping them out. You guys don't get to see the details on them" up close.

And in a twist of technical genius that allows the fairy tales to come to life, Once Upon a Time doesn't just use a green screen, it uses an entire green room.

"I didn't know they were going to do that until the night before," Hershey said. "I'm glad someone told me because when I walked on the set there's this iridescent green everywhere. It creates its own atmosphere, but for fairy tales it's kind of a good atmosphere. It's surreal."

Hershey appears on this Sunday's episode. Check out a clip of her interaction above, along with a sneak peek at her daughter going off on Mary Margaret in this Once Upon a Time sneak peek.

C. Orlando is a TV Fanatic Staff Writer. Follow her on Twitter.

Tags: Exclusives, Interviews, Once Upon a Time