Desperate Housewives Review: Answering the Call
by Christina Tran at .
"Any Moment" did not feel adequate enough in pace with less than a handful of hours remaining in the series. Still, it was a strong installment, just simply was not as epic in nature as last week's... which was quite possibly the best Desperate Housewives episode ever.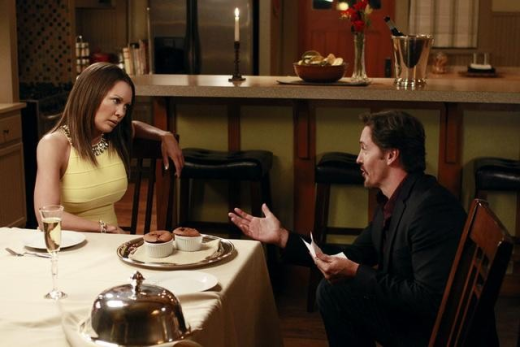 As we continue to trudge forward with the end in sight, tonight's installment focused on answering the call in life with Lynette trying to win Tom back, Gaby's shot at proving her worth in the working world and Susan's opportunity to show MJ the right path in dealing with Mike's death.

I loved the latter. From Bree's touching moment with Andrew to Lynette's sweet scene with Penny, I realized that this was just another element of Desperate Housewives that I would truly miss. Though strangely a bit violent, the scene with Susan and MJ taking out their anger by smashing jars of jams left me teary-eyed once again. When MJ dropped the last jar on the ground and finally broke down in his mother's arms, I could feel their pain, anger and devastation. It was truly a heartbreaking scene.

I also liked Gaby's adventure in joining the workforce. Her meeting with the recruiter was ridiculously funny. Of course Gaby was in the market for a job with lots of vacation time, a six-figure salary and flexible hours. That was just so Gaby. After being told she was practically unemployable, she dealt with her depression in the only way she knew how: a shopping spree. Although it was a bit predictable, I knew that she would find her calling in doing what she does best with her shopping skills.

Meanwhile, ever since last week's stroll down memory lane, I've been rooting for Tom and Lynette to get back together more than ever before. Thanks to a Taylor Swift concert (By the way, I totally knew something was up when Lynette passed up on a Taylor Swift concert. Who would do such a thing?!?) and Penny's help, Lynette definitely stepped up her game with a ton of candles, beef bourguignon and photo albums for a special blast to the past.

Everything almost fell into place with Tom and Lynette nearly kissing. Unfortunately, things went up in flames when Tom's shirt caught on fire and he realized that Lynette had set the entire night up. He stormed out undeniably upset, but it was obvious Lynette was still on his mind by the end of the evening.

Elsewhere: Ben and Renee "finally" got engaged. Sure, we were shown several different moments when Ben almost popped the question with Renee impatiently waiting, but I found it hard to care too much about either of these characters. It's honestly been quite some time since Renee has had much of a storyline on her own (what a waste of the incredible Vanessa Williams) while Ben's been MIA for a number of episodes.

My lack of empathy for Ben also might be blamed on the fact that he's shown absolutely no remorse for what happened to Mike. I can't help but blame him the most for Mike's death. Since I care so little for Ben, I'm hoping he eventually feels guilty enough to want to protect the ladies on Wisteria Lane and takes the fall for what happened to Gaby's stepfather.

On another note, aren't the police going to investigate Mike's death? Then again, the police were clearly too busy focused on tapping in on Bree and Ben's conversation. Now that the police have enough evidence to arrest Bree, what do you think will really happen next? Will she continue to spin her web of lies or will she be unable to keep her friends' secret? Also, will Orson make a surprising return or will the police figure it all out?

Finally, Andrew was back on the Lane and acting peculiarly strange with a fiancée... who was a girl. Of course Bree couldn't help but meddle and found out that Andrew was marrying for money. It's nice to have him back, but his storyline mostly felt like filler to me.

So, what did you think TV Fanatics? What was your favorite moment of "Any Moment"? Don't forget to check out our Desperate Housewives quotes section. 

Tags: Desperate Housewives, Reviews
From Around the Web