Happy Endings Review: Restaurant Roulette
by Leigh Raines at .
Everyone knows that birthday parties are usually overrated, but it seems that Penny has taken the birthday blues to a new level. In "Party of Six" we explore the curse on Happy Endings otherwise known as Penny's birthday.
First things first: was it me or was Max doing a lot of voices and impressions this week? No complaints, just an observation. He was clearly getting a bit delirious as his blood sugar dropped.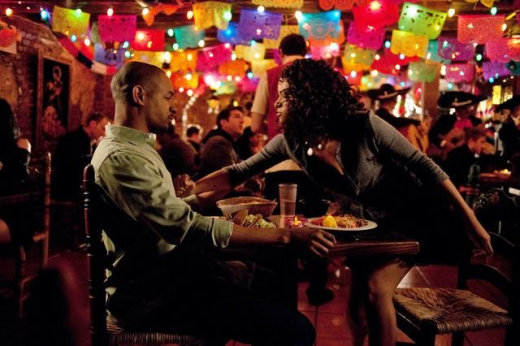 I love his open obsession with food. He honestly is "fat Joey." Not that I think Adam Pally is a whale, he is actually totally adorable, but still. I don't know how he's not fatter when his best friend owns a food truck... excuse me "restaurant."

Brad's right, a restaurant doesn't have windshield wipers. Poor Dave gets a lot of heat, though! Maybe even more than the rest? I'm surprised Dave didn't end up taking the crew to his truck and whipping up some steak sandwiches.

Isn't it funny that in a city like Chicago, or in my case New York, it sometimes feels like there's nowhere to eat even though the possibilities are really limitless? Maybe it's stimulation overload that causes our minds to go blank when deciding where to dine. One thing is for sure, however: when you love a restaurant, you don't cede the territory to your ex!

Maybe one spot can be a designated no-go because it brings back bad memories, but a whole list? Puh-lease. Were Penny and Nick even serious enough to have that kind of breakup agreement? She definitely showed him who's boss... before she showed the entire restaurant her ta-tas. 

Speaking of bad memory restaurants, I was super surprised to learn that Brad had ever considered breaking up with Jane. These two are so obsessed with each other they can't stop getting it on in bathrooms. But like most things, the more we learn about Brad and Jane's past, the more we love them. Also, Jane would have totally been able to unbolt that table from the floor and throw it at Brad. I don't know if a restaurant like this actually exists, but I'd imagine a bunch of guys want to create one now!

Despite usually taking on the role of the ditz, Alex was standout in this episode. Between her speech to Jackie, standing up to Nick, and her pep talk that included Miracle and Goonies, she rocked it tonight.

Of course, no pop culture reference could possibly beat Dave using the plot of Never Been Kissed to explain why he went to prom with Jackie. And even better was Penny acknowledging that they all knew how pathetic he was when he cast himself as Drew Barrymore. Forget what I said before about the gang busting on Dave so much, he totally brings it on himself!

So what do you think that old lady was saying at the end? Were you surprised that Brad almost broke up with Jane once? Moreover, were you taken aback that her bossiness at a waiter is what changed his mind? Don't forget to check out the Happy Endings quotes and hit the comments!

Leigh Raines is a TV Fanatic Staff Writer. Follow her on Twitter.

Tags: Reviews, Happy Endings
From Around the Web