HBO and the executive producers of Luck have shut down production on the series indefinitely following Tuesday's equine casualty, the third horse death on the set of the new drama starring Dustin Hoffman.
Luck was in mid-production on the second episode of Season 2. The first episode of Season 2 won't air. The remaining two episodes of Season 1 will air, but with the season finale serving as the series finale.
In the immediate aftermath of the third horse death, HBO initially said Luck production would continue, but only on scenes not involving horses. Now the stoppage will encompass the entire production.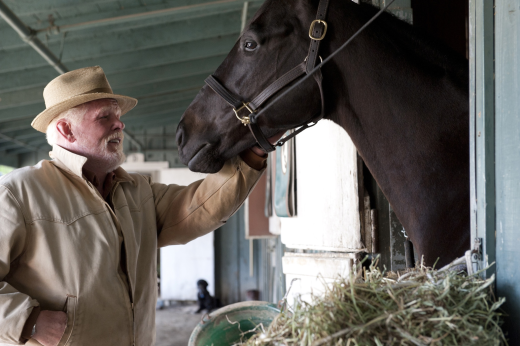 A behind-the-scenes look at horse racing and the owners, trainers, jockeys and gamblers who live and die with it, Luck debuted to a modest 1.1 million viewers this winter, then declined steadily since.

Executive producers David Milch and Michael Mann said in a statement:

"It is with heartbreak that we, together with HBO, have decided to cease all future production on Luck."

"Safety is always of paramount concern. We maintained the highest safety standards throughout production, higher in fact than any protocols existing in horse racing anywhere with many fewer incidents than occur in racing or than befall horses normally in barns at night or pastures."

"While we maintained the highest safety standards possible, accidents unfortunately happen and it is impossible to guarantee they won't in the future. Accordingly, we have reached this difficult decision."

"We are immensely proud of this series, the writing, the acting, the filmmaking, the celebration of the culture of horses, and everyone involved in its creation."

The two of us loved this series, loved the cast, crew and writers. This has been a tremendous collaboration and one that we plan to continue in the future."

Steve Marsi is the Managing Editor of TV Fanatic. Follow him on Google+ or email him here.

Tags: Luck