NCIS: Los Angeles Review: It's Not a Game
by Carla Day at .
"Vengeance" was one of the most difficult hours of NCIS: Los Angeles to watch, given the intense moral dilemmas throughout the episode. The question of what was right was never easy to decide from beginning to end.
The Navy SEALs have a high moral code, but from the start the team members were betraying its honor code. Or were they? Was lying to protect themselves, the unit and the forthcoming mission honorable?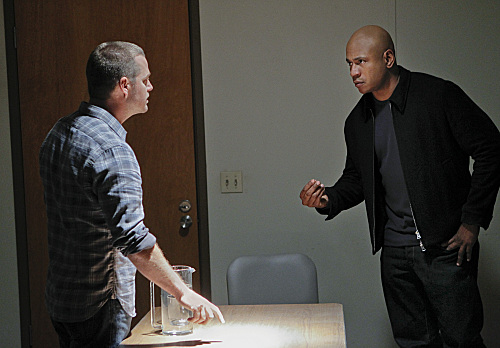 The conflict began with Callen's interrogation of the SEAL team to find out who killed Ensign Powell, but the SEALs wouldn't talk to him honestly. While Callen is not a SEAL, he is an agent of NCIS.

Their disrespect of Callen and the investigation was disturbing to watch. And Sam's lack of support for Callen was disheartening. Yes, these men should be honored for their service to the country, but, as Callen said, that didn't mean they shouldn't be questioned.

In the end, the SEAL team was responsible for Powell's death, whether intentional or not. They were not beyond reproach, right? Callen was right in wanting to interrogate them, but that responsibility was left with Sam because they wouldn't talk to anyone else.

Sam had to carry the heavy burden on his own. Were the SEALs right to only talk to Sam? This strict code they live by helps them on missions and to protect the country, but did they take it too far here?

They even had one of their own men take the fall on his own. How could the rest of the team let one member be held responsible, while the rest got off? Did Foster feel he was doing right by his team with his confession? Was that honorable?

Sam wouldn't stand by and let Foster take the blame, so he took it upon himself to find out the truth and talk to the SEAL team - SEAL to SEAL. The trust that Callen had in Sam? Now that was honorable.

Did the SEAL team do that right thing? They captured the traitor, Powell, and were going to turn him in after the mission. They felt that the mission to rescue the two hostages in Afghanistan was more important. Unfortunately, Powell was stabbed in self-defense by Foster, but died when he stopped breathing on his own.

In order to allow the mission to save the hostages, Sam proclaimed there wasn't any evidence to hold the men risking his own career. In the end, the SEALs went on the mission and saved the hostages by putting themselves at risk. They knew the mission could have been compromised, but went anyway.

Ultimately, Hetty agreed with Sam's decision and the case was closed. Was that the right decision? The moral dilemmas throughout the episode were not easy to consider; determining right from wrong and what is honorable is not always a clear cut decision, as evidenced by a couple key NCIS: Los Angeles quotes from the hour:

Sam: It's not a game.
Eric: No, it's not. | permalink

Hetty: That could have been a trap, but those men went anyway.
Sam: That's what we do. | permalink

Carla Day is a staff writer for TV Fanatic. Follow her on Twitter and on Google+.

Tags: NCIS: Los Angeles, Reviews
From Around the Web