Switched at Birth Review: Picking Teams
by Leigh Raines at .
Switched at Birth is great at putting its cast members in gray areas. After all, that is the premise of the entire show. "Game On" really illuminated this, inserting Bay and Daphne into difficult situations.
Bay got caught between what Emmett wanted and what she thought he needed. Daphne felt torn between feeling the pressure of being a hero for the deaf community and being able to just define herself outside her hearing status. Then there's Simone, who makes you ask yourself if you pity her or just plain hate her. I choose the latter.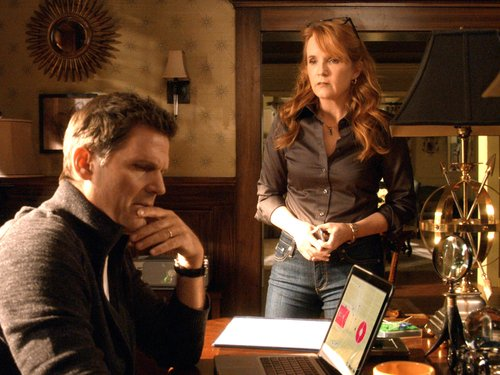 All TV shows have bitchy characters, but usually there is a some characteristic that is sympathetic or at least entertaining. For instance, I review fellow ABC Family show The Lying Game and I don't completely despise Sutton no matter how evil she is. She at least has a purpose in stirring the pot and her bitchy dialogue is somewhat amusing. Simone has no such purpose. 

I'm not sure the last time I wanted to bitch slap somebody on a television show so badly. She is the worst! All of her schemes are obvious, transparent, and pathetic. Now she slept with Emmett simply to get back at Daphne for beating her in basketball and at Toby for ignoring her. Talk about a sore loser. 

She is obviously so lonely and desperate for attention. I'm glad that Toby wised up to her ways. Unfortunately Emmett was feeling vulnerable and he fell right into her trap. The lure of vodka and an escape was too much to resist.

I'm not gonna lie I'm pretty pissed at Emmett. Earlier in the episode, he said that Bay is the one place he can go to escape all of his problems. Honestly it seems to me like Bay is actually the place he goes to take out all of his annoyance and frustrations. 

Melody put Bay in the middle of a crappy situation. She shouldn't have taken advantage of her son's girlfriend, but at the same time Bay was witness to Cameron's poor parenting. It is in Emmett's best interest to grow up in a house that doesn't include his dad's drug dealing girlfriend. That wasn't a small amount of weed Olivia was stashing!

Yes, Emmett asked her to stay out of it, but Bay isn't a passive girl and she wouldn't sit idly by while watching her boyfriend in a bad situation. If anything, I think that's pretty adult of her. She was putting his best interests above all, above their relationship even, and she did it out of love. She even tried going to Cameron first to have an open conversation about the drugs.

It's not easy to do something that you know the person you love is going to hate you for. I just wish Emmett could see that this is about him and his need for attention from his dad and not Bay trying to ruin his life. If anything, Bay helped Cameron realize that he wasn't the right parent to raise Emmett if all he cared about was winning against his ex.

Daphne was awesome and honest during this week's episode. I loved watching her relationship with John grow as we saw when she confided in him about the pressure she was feeling.

Yes, it's an amazing privilege to have so many people in the deaf community looking up to her and feeling inspired by her, but she is still a teenager. It is a lot of pressure to have one thing define you whether it's your hearing abilities, athletic skills, book smarts or whatever. 

In the end, Daphne was able to win in more ways than one. She stood up to Simone who tried to get her disqualified and won for both the team and herself. What did you all think?

Were you proud of Daphne for being honest with herself? Do you think Bay and Emmett can make it as a couple? Do you have any pity for Simone? Sound off in the comments! 

Leigh Raines is a TV Fanatic Staff Writer. Follow her on Twitter.

Tags: Switched at Birth, Reviews
From Around the Web