The Lying Game Season Finale Review: A Deal with The Devil
by Leigh Raines at .
Wow. I'm still catching my breath from that ending. The season finale of The Lying Game presented us with the rushed nuptials of Alec and Rebecca, and oh boy was it certainly an "Unholy Matrimony."
We've had 19 episodes of prep to get us ready for this moment, but I was still left with my jaw hanging. Before we get to all the good stuff, I will start off by telling you why I didn't give this episode a perfect five stars.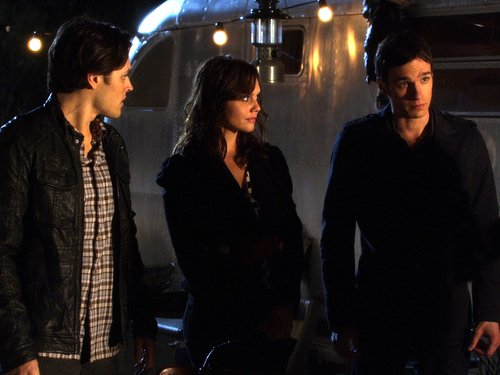 Before the end credits panned over to Sutton and we got the big reveal that Rebecca is indeed the mother, I thought the episode was over. ABC Family dramas have the habit of hyping something and then leaving the reveal to the last 10 seconds. This drives me crazy!

Now we have a whole new set of questions and we're still waiting for a confirmation on season two. I only knocked it half a point, however, because we finally know the identity of the mother! Some may think that in itself was a bombshell, but as I was specifically told, it's something we would have never seen coming and a lot of people had predicted Rebecca to be the birth mother.

The real bombshell was that Sutton was in on it all. Whatever "it" may be. Sutton knows Rebecca is her mother, Rebecca knows her twins are both alive and that Emma is pretending to be Sutton. So was this Rebecca's plan the whole time? Is she the one who set up the car crash? My main question here is simple: What's in it for Rebecca?

Despite the fact that I don't think Alec is dumb enough to hide a murder weapon in his golf bag, I do think that he killed Derek. Thus, Rebecca is his alibi and by marrying her she doesn't have to testify under spousal privilege. So again, what does Rebecca want? What is in it for her?

For starters she had Sutton push Emma into telling Kristen about the locket. Rebecca obviously still loves Ted and wants Kristen out of the way. I'm just wondering why Sutton hates Kristen so much that she would want to put her through that. Or is she doing her a favor? Ted lied to Kristen and his kids for all of these years and said the birth mother wasn't around. 

Do Rebecca and Sutton want to screw over both Ted and Alec? Perhaps. Both of them are definitely in the doghouse right now so it looks that way. Also, Emma has been pushed into Thayer's arms and now Sutton thinks she has a shot at Ethan again. 

I was left with a lot of questions, a sense of relief and excitement over the possibility of a second season. I feel terrible for Kristen, but think that perhaps she is better off knowing that her husband is a liar and cheater. Maybe she can start her life over. 

So... were you guys satisfied with this finale? When do you think Sutton figured out Rebecca was their mother? Are Emma and Ethan over for good? Weigh in now with your season finale thoughts.

Leigh Raines is a TV Fanatic Staff Writer. Follow her on Twitter.

Tags: The Lying Game, Reviews
From Around the Web