Although that Game of Thrones inspired couch gag was pretty awesome, even it couldn't save this lackluster episode.
"Exit Through the Kwik-E-Mart," drawing on the the Banksy-driven documentary Exit through the Gift Shop, alluded to both the graffiti of Bart's thinly veiled alter-ego "El Barto" and Apu's business troubles. The show had an interesting premise, but ultimately couldn't really deliver the laughs.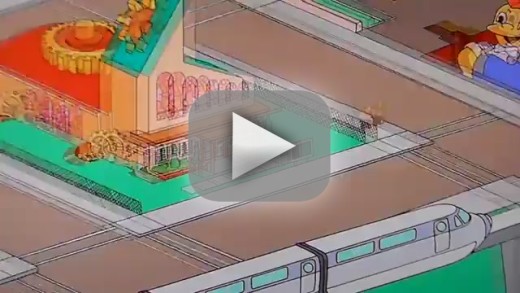 The funniest part came in the rather underplayed B-plot involving Apu dealing with some competition. Springfield gets a Swapper Jack's, which boasts such wonderful items as white wine, "grass fed lettuce" and "six aisles of olives." The Trader Joe's parody was spot on and definitely got a giggle out of me.

The novelty of the new store draws Apu's customers away, and the great products keep them from coming back to the Kwik-E-Mart. This gave Apu plenty of opportunities to fight for his patrons, leading to the most amusing scenes of the night. His sword toothpick fight with Homer was nicely done, but it only got him restrained in a Hawaiian t-shirt.

The Swapper Jack's is such a drain on Apu's business that he resorts to holding up the place. In a great reversal, he pulls a gun on Snake, a newly hired checker. This plot was a well employed distraction from the dullness of the main storyline, but I felt like it was hastily resolved. Suddenly Apu's competition is gone and the Kwik-E-Mart is saved. Obviously, Apu's business has to bounce back, but this plot didn't have to be rushed to its inevitable conclusion.

The Apu-story was mostly sacrificed so we could be "treated" to the guest vocal appearance of Shepard Fairey. So they couldn't snag Bansky for this episode because... well... no one knows who he is. Bart learned a very important lesson about anonymity that Banksy figured out at the beginning of his graffiti career: once people know who you are, you'll be held accountable for your criminal "art."

Fairey was a good alternative for Banksy as a much more visible graffiti artist, but his presence didn't really add anything to the show other than racking up another guest star for The Simpsons. Plus, isn't Fairey and the grafitti art craze kind of over?

Bart's usual graffiti evolved into a more Banksy-esque protest art, and his work was interesting to see. The pictures were nice parodies of famous Banksy images, and his iconic Homer/Dope image did nicely reference Fairey's own "Obey" piece. But that was about all this whole plot had going for it: pretty pictures.

As we all know, this sitcom, is great at parody, but is that enough? Ponder that question as you sort through our updated section of The Simpsons quotes.


Tags: The Simpsons, Reviews
Want more The Simpsons?
Sign up for our daily newsletter and receive the latest tv news delivered to your inbox for free!
More From TV Fanatic
On tonight's The Bridge, Marco is made an offer that he initially refuses. Will he agree to go after Fausto?
Things go from bad to worse for Molly on Extant as she tries to escape the prying eyes of the ISEA but chooses the worst place for safety. Read on for a full review.
Mike is on a war path, but is he headed in the right direction? Read our Graceland review of "Los Malos" now to find out!
Rachel tells Mike about the kiss as Mike struggles to pick up the pieces after his firing. Read our Suits review of "We're Done" now to find out what went down.
---