After watching just one round of the battles this second season, it's safe to say that we should all be glad The Voice kept them around. Why? They may not be perfect, but they are still far more entertaining than the past 11 seasons of American Idol's Hollywood Week.
The first episode of Battles gave us mentoring sessions from a number of stars, a more in depth look at all of The Voice's contestants, and, most importantly, a few brilliant performances that left the coaches, America, and me stunned. Let's get to the action...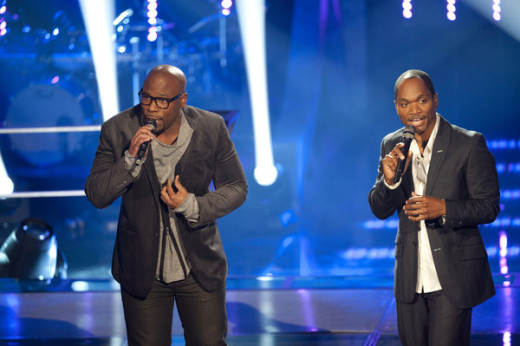 Team Adam - Tony Lucca vs. Chris Cauley - "Beautiful Day"
The Battle: Both guys sounded great. I liked that Tony took the advice to go for the high notes, because he hit them, and killed it. Chris was great, and the two of them sounded awesome together, but Tony was just much more believable. I liked Cee Lo's argument that Tony "articulated the song better."
My Choice: Tony
Adam's Choice: Tony
Battle Grade: A-
Team Blake - Adley Stump vs. RaeLynn - "Free Fallin'"
The Battle: Even though she was extremely cute when meeting her idol Miranda Lambert, RaeLynn seemed really off to start the Battle. Adley came in and just out-powered her. She then was able to succeed in the softer moments as well. RaeLynn does have a nice style about her, which Blake repeated often, but her vocals didn't really cut it here. I don't know if it was just that RaeLynn won't mesh with anyone or what, but their harmonies were pretty awful.
My Choice: Adley
Blake's Choice: RaeLynn
Battle Grade: C-
Team Xtina - Chris Mann vs. Monique Benabou - "The Power of Love"
The Battle: Can you say smoke show? I couldn't even hear Monique when the two of them were singing together. How are you supposed to choose someone that is getting drowned out every time her competitor sings at the same time as her? Monique sounded wonderful when she was on her own, but she wasn't nearly as talented or powerful as Chris was. They kept saying that she felt her performances so much, but it didn't seem like she had any edge on Chris in that department either.
My Choice: Chris
Xtina's Choice: Chris
Battle Grade: B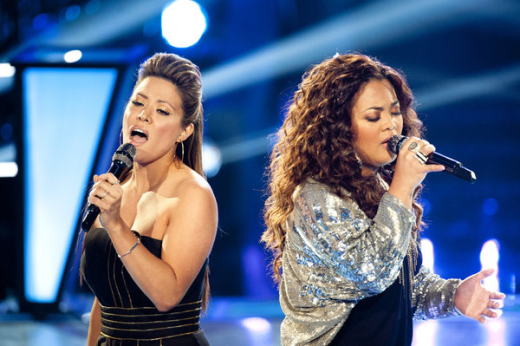 Team Cee Lo - Cheesa vs. Angie Johnson - "Total Eclipse of the Heart"

The Battle: I liked that there was some gamesmanship with the two of them upping the ante on the key in rehearsals. Once they got to the actual battle, the competition ramped up even more, as this was one of the best performances of the night. This was also a very difficult decision because not only were they both very good, but they were similar.  Angie had a bit more range, and Cheese had a bit more power, but pretty similar.
My Choice: Angie
Cee Lo's Choice: Cheesa
Battle Grade: A

Team Blake - Jordis Unga vs. Brian Fuente - "Ironic"

The Battle: It's never a good sign when they didn't even bother to show your blind audition, Brian. While it wasn't perfect, Jordis's voice cracks in all of the right places for me. She overpowered Brian like whoah during this performance, which is why I was surprised when Cee Lo said Brian had the more aggressive energy. I didn't get that at all. He seemed way too timid. Brian's voice was fine, his aggression was lacking.
My Choice: Jordis
Blake's Choice: Jordis
Battle Grade: B-

Team Xtina - Anthony Evans vs. Jesse Campbell - "If I Ain't Got You"

The Battle: Here's where things get interesting. This was just a fantastic performance, and it's an absolute shame that one of these two contestants has to go home before the Top 24! I would take either one of these guys over ANYONE in American Idol's Top 13. No joke. Jesee seemed like the better singer, but Anthony, and his falsetto, really got my blood boiling. Jesse's adlib was admittedly unbelievably good, but Anthony seemed like the current artist... and that's not just because of Jesse's mustache.
My Choice: Anthony (but you really can't go wrong here)
Xtina's Choice: Jesse
Battle Grade: A+

So Christina and Blake have two team members for the Top 24 Live Shows, while Adam and Cee Lo only have one. We now have to wait in anticipation for next week and the second installment of The Voice's Battle Rounds!

Dan Forcella is a TV Fanatic Staff Writer. Follow him on Twitter.

Tags: The Voice, Reviews