Breaking Bad Season 5: Where Does Evil Take Walter White?
by Matt Richenthal at .
I won.
So Walter White uttered to close a mesmerizing fourth season of Breaking Bad, one that saw him dispatch enemy Gus Fring in one of television's most iconic death scenes.
But did Walter truly win? Will it all be smooth sailing going forward this summer, when the best show on TV returns to AMC, likely some time in July?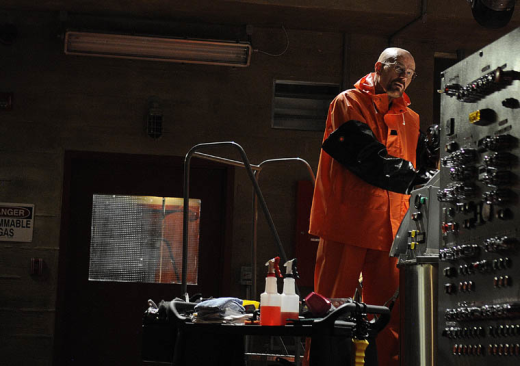 "We pick up right where we left off," Bryan Cranston tells EW of the premiere. "We're cleaning up the pieces from last season's huge ordeal where Gus Fring was forced to meet his maker. It's not as easy as Walter thought. And as we've discovered over the years, you don't really know who Walter White is. I'm still discovering who he is and I'm trying to allow myself to be open to him going darker and darker. There's physical danger to himself and his family, plus there's the emotional danger due to his anger and hubris. It's about the evil that men do and where that takes him."

While AMC is yet to confirm the schedule, meanwhile, Cranston also said the final season will be split into two sets of eight episodes.

"We're going to shoot the first eight, then take a four-month production break, then the rest will air next year," he said, meaning the countdown to the summer of 2013 and the end of Breaking Bad's run is, sadly, already on.

Matt Richenthal is the Editor in Chief of TV Fanatic. Follow him on Twitter and on Google+.

Tags: Breaking Bad, Spoilers
From Around the Web