Community Review: The Fabric of the Group
by Leigh Raines at .
Everyone knows Abed lives in an alternative reality. Especially when he is in the "Dreamatorium." Only on this week's Community, "Virtual Systems Analysis," did Annie call him out on it.
However, Abed being the evil genius that he can be, was able to turn the tables and shine a light of truth on his beautiful pal.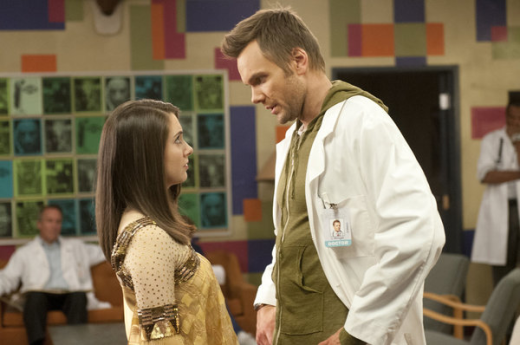 Annie thought she was innocently doing a good deed by setting up Troy and Britta on a lunch date. Little did she realize how deep her intentions really were. 

I honestly can't say that I love love loved this episode, considering it all took place in an alternate universe, aka the Dreamatorium. But it was certainly interesting. Personally, looking at the Dreamatorium makes me feel like I'm tripping on drugs, but I realize that it's an integral part of two characters' ( (Troy and Abed) world.

What is really interesting is that Abed thinks he is socially awkward, yet he is always one of the first people to speak the truth. I guess social awkwardness equals no filter? First off, like any human being, Abed was upset when he overheard Annie talking about him and saying that everyone needs to stop making allowances for him.

It was sad when we got to the point of the Dreamatorium where Abed was chained to the wall, symbolizing getting shoved in his locker during middle school. It makes me sad that Abed thinks everyone would get sick of him and abandon him! But, after all, he's only human and everyone has their insecurities.

What I really did like about this episode was that Abed called Annie out on her infatuation with Jeff. It's about darn time! While Annie tried to set up Troy and Britta because she knew of Troy's feelings for Britta, she deep down did have another agenda. With Troy and Britta sufficiently occupied, there wasn't much more standing in the way of Annie and Jeff. How funny that Leonard was spying and squealed to Abed?!?

I'm glad Annie and Abed were able to bond in the Dreamatorium, but sad Shirley and Pierce didn't have a huge part in this episode. Is there really nothing better to do with Pierce's than have him say that he sat on his balls and crushed them? I mean, sure it's funny for one second of gross out humor, but c'mon. 

What did you all think of this episode? Does Abed do the best impressions of the group? Hit the comments and don't forget to check out our Community quotes of the week! 

Leigh Raines is a TV Fanatic Staff Writer. Follow her on Twitter.

Tags: Community, Reviews
From Around the Web