"Teenage Wasteland" brought Kate back to the Hell which is high school.
The case went back an forth so much it made my head spin as Kate was wrong as much as she was right. 
Kate was the only one asking Eliza to tell her story which was a definite plus but then the way she related to the angry teen blinded her to everything else.
I couldn't believe that Kate wasn't willing to wait for those text messages to be investigated. It's one of the frustrating things about Kate Reed. She's a smart woman who frequently lets her emotions rule her head and it almost always leads to disaster.
She let her hatred of Burgess Hall color her decisions and it was hard to watch. Once again, Lauren was the voice of reason to which Kate refused to listen.
On the upside, Olivia's words to Kate got through in the end but it wasn't easy. In this Fairly Legal quote, Kate Reed showed she knew how to hold onto a grudge.
Kate: It was us against the bastards and then she joined the bastards. | permalink
People change and that isn't always a bad thing. When Olivia asked if Kate was still the same teenager looking for a fight, the only real answer was yes and that's kind of sad.
Kate's growing up but it's painful. She's put herself through a lot of turmoil but it's nice to see her and Lauren beginning to understand one another.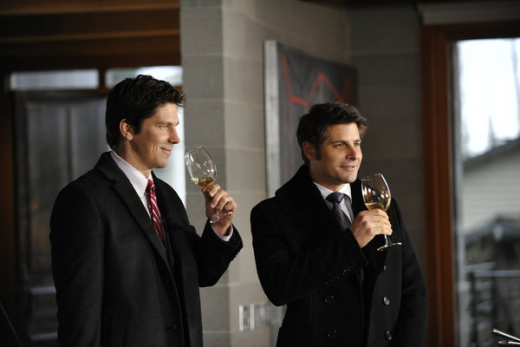 The highlights of the episode were the scenes with Ben and Justin. After Kate propositioned Ben for meaningless sex in last week's episode, it was obvious that he's even more intrigued by her, even though he turned her down.

Ben's subtext as he tried to figure out Justin was insightful. He pegged him as rigid and not a risk taker and figured Kate had gotten bored. But Justin quickly showed that his by the book demeanor barely masks his passion for the law…and everything else.

Justin and Ben trying to figure out the judge was great. They were so confused. Was she hitting on them? Was she looking for a three way? 

I couldn't stop laughing when the boys were both too scared to go back to get Ben's keys. The looks on their faces were hysterically funny. 

It took Lauren to figure out their plight. The judge wasn't looking for sex. Their debating was the sex. She was using them as her intellectual male escorts. Well, she couldn't have found two better looking intellectual partners if she tried. I almost felt sorry for her when they ended the game.

As the two men bonded over their weird dates, they had no idea how to deal with that. I'm looking forward to seeing these two spar again in the future.

So was Kate completely naive when she lamented the the school was unfair? Do you think this rebel with a cause needs to grow up or is she just fine the way she is? And who would you choose as your intellectual debate partner…Ben or Justin?
Share your thoughts on this week's Fairly Legal.

C. Orlando is a TV Fanatic Staff Writer. Follow her on Twitter.

Tags: Fairly Legal, Reviews