Gossip Girl Season Finale Spoilers: Return of the ...
by Steve Marsi at .
The CW has released its official synopsis for the upcoming fifth season finale of Gossip Girl, airing Monday, May 14. On that night, Blair Waldorf makes a choice between the two men in her life.
The episode title: "The Return of the Ring."
There's a lot else going on in this installment, which executive producer Josh Safran told us will include a major cliffhanger and forever alter the fabric of the show. Here's what lies in store ...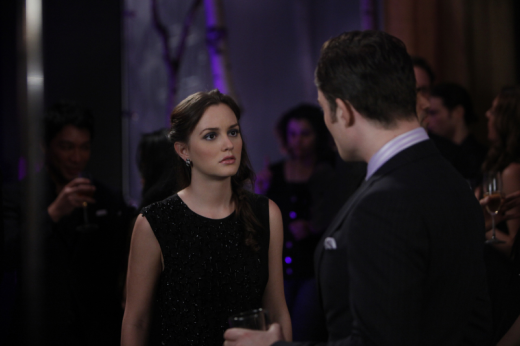 When Gossip Girl goes after Blair as she's never done before, Serena admits she may have unintentionally played an important role in Blair's latest nightmare.
Lily must make a big decision about the future of her marriage. 
Nate invites Lola to move in with him.
Finally, by episode's end, Blair will make a choice between the two men in her life... will it be Chuck or Dan?
Sounds like an intense episode. What do you think turns Gossip Girl against Blair so dramatically? Does this mean she wrests back control of the site? And will Serena's role as Gossip Girl 3.0 be exposed?

Can Rufus and Lily survive, and will the lovely Lola accept Nate's bold request?

Finally, do you think the episode's title implies that Chuck's engagement ring will make another appearance? Will Blair actually choose Dan for the long haul if Chuck makes one final play for her affections?

Two episodes remain ("Raiders of the Lost Art" and "The Fugitives") between now and then, and the possibilities for our beloved characters are endless, especially in light of recent developments.

UPDATE, 5/2: There are rumors of a Derena reunion, as well as a Monaco trip. Serena's role remains unclear, but part of the finale does take place overseas, and at least two central characters are there.

UPDATE, 5/3: Apparently Serena is getting a "new" love interest ... who we already know. And the choice Blair makes will NOT be a cliffhanger. She will make a clear choice, one way or the other.

UPDATE, 5/11: According to new intel, someone will "see" Gossip Girl, while the final scene will feature two characters - one male, one female - and does not take place in New York. So ... there you go.

Share your predictions with us below, and vote:

Who should Blair choose on Gossip Girl?

Steve Marsi is the Managing Editor of TV Fanatic. Follow him on Google+ or email him here.

Tags: Gossip Girl, Spoilers
From Around the Web