Grey's Anatomy Season Finale Spoilers: A Very Dark, Complex ... Thing!
by Steve Marsi at . Comments
Get ready for another gut-wrenching Grey's Anatomy season finale May 17.
That's surely no surprise to longtime fans, but the stakes are higher than ever next month. In the case of the final Season 8 chapter, it could be the final one altogether for one or more Seattle Grace staffers.
What does creator and executive producer Shonda Rhimes say lies in store?
"There is a very complex thing that occurs for many of our characters that places a lot of them in a position to discover what they're made of. I don't know that you could guess it," she cryptically tells TV Guide.
Yes ... she said a thing.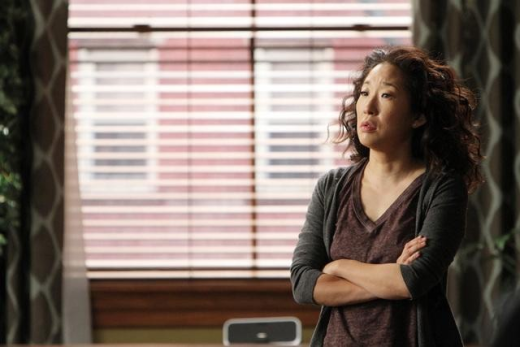 When asked whether this incident - a forest fire, reportedly, is at the center of the episode, "Flight" - is similar to the ferry boat crash or the rampaging shooter of seasons past, she replied, "Yes. A yes to both!"
In a year where the contract negotiations of the original cast members are unresolved, Rhimes has been challenged to create the perfect scenario should one or more of the core characters not return for Season 9.
"People will take jobs at different hospitals," Rhimes says. "The plan is, at the end of the season, our doctors will do what residents all over the country do, which is to accept jobs at different hospitals."
Could some stick around Seattle Grace? "Not at the end of the season," Rhimes teases, with the qualifier that one of many options is that some will return in the ninth season, for reasons currently unknown.
As for whether someone doesn't have that option - in other words, they die - Shonda isn't going there this year ... maybe. "I don't want to answer this question," she said bluntly of the season finale.
"It's very dark and twisty. We're taking our characters on a journey they've never been on before."
UPDATE, 4/25: She has now confirmed that there is at least one major death in the season finale.
UPDATE, 5/2: We still don't know who dies, but we do know a handful of doctors who are safe.
"To me, it's a very shocking thing that I chose to do and I was really stressed-out about doing it, and it took me a long time, so I kept taking the finale apart and putting it back together."
"It's also a very emotional episode. I always feel like when an episode really scares me, when I spend a lot of time with my head in my hands wondering how the fans are going to take it ... I kind of know that it's good."
In that sense, this finale will be the opposite of the Season 7 finale.
"I feel like last year's finale was very quiet for a reason," Rhimes says.
"Our characters had been through so much and [came] to a place where really their decisions were about their growth as people - Meredith and her baby and Cristina and her pregnancy."
"This season, I feel like the theme of the episode is graduation, and there is a huge sense of nostalgia in this episode in terms of what you're looking at. This could very well be the last time these doctors are working together."
"This could very well be the last day for some of these doctors here."
"There are some really beautiful moments. There's a great moment for Bailey that is light, wonderful, beautiful, romantic and amazing that I'm very excited about. But there are some very, very dark things happening."
Some of that darkness will surely come Owen and Cristina.

"I really do believe and love them together as a couple," she says. "When I say, 'Oh, I want them to stay together,' people think that means that they're going to hold hands and skip happily off into the sunset."

"We all know that's never going to happen or else we wouldn't have a television show. I do ultimately think that they belong together, but that road could be very long, or it could be short."

As for potential Season 9 arcs? Your guess is as good as hers.

"I haven't gotten into next season yet," she continues.

"I can't even think past how we're ending this season. So many other things are happening that I'm not sure that you're going to spend time worrying about whether or not Cristina and Owen are going to be together."

Gulp.

"In the episode before the finale, you will feel like you know what's going to happen to them, but their journey [continues]. There are some things that will feel like there's some closure and many things that won't."

What do you think of Shonda's typically open-ended statements? Will the Grey's Anatomy season finale mean the end of the show as we know it? Share your predictions and viewpoints in the comments below.

Steve Marsi is the Managing Editor of TV Fanatic. Follow him on Google+ or email him here.

Tags: Grey's Anatomy, Spoilers
Want more Grey's Anatomy?
Sign up for our daily newsletter and receive the latest tv news delivered to your inbox for free!
More From TV Fanatic
Read on for highlights of our conversations with cast and crew of The Walking Dead at Comic Con, including Norman Reedus and Emily Kinney.
What can you expect from Pretty Little Liars Season 5 Episode 9? Check out these photos and find out now!
The Once Upon a Time season 4 premiere will welcome Elsa and Kristoff. Get your first look at the Frozen characters here.
Check out this fun video from ABC, which features Shonda Rhimes, Kerry Washington, Viola Davis and Ellen Pompeo.
---