Hart of Dixie Exclusive: Wilson Bethel on Flaring Emotions, Raging Hormones
by Matt Richenthal at .
In a word: No.
That was Wilson Bethel's simple, straightforward response when I asked him whether Wade was actually over Zoe, as events on last week's Hart of Dixie episode seemed to imply.
"Definitely not," the actor elaborated. "He's in limbo, having felt like his affections for her were either scorned or not reciprocated. He's trying to figure out where he stands."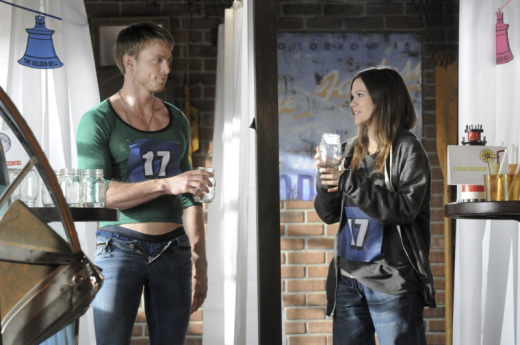 And while Wade's ex-wife, Tanzie, does make an appearance on tonight's "The Race & the Relationship," Bethel says viewers will learn the "extent" of what his above quote means during the episode.

"We have an Amazing Race type situation in Bluebell," he previews. "Teams pair off to attack each other in a series of challenges and Wade and Zoe are reluctantly paired up… but it becomes more than just a benign race pairing. Emotions flare. Hormones rage."

And Wade sings? Not exactly. Bethel knows he can't compete with Scott Porter's impressive vocals last Monday night.

"It's a hard act to follow," he said of George going all karaoke in New Orleans.

But we have seen other sides to Wade as well this season, most notably when Justin Hartley guest-starred as his brother in "Bachelorettes & Bullets."

"That was a really exciting thing to explore," Bethell said of Wade's more serious side. "A lot of material on this show is light and fun. So it's nice to have those opportunities to show some range. We want these characters to feel like real human beings on all levels, to have real pathos."

Can he give us any kind of season finale tease, as fans anxiously wait and hope for The CW to pick up the series for 2012-2013?

"Zoe and Wade fans will be pleased with the way the season turns out," the actor teased. "Fans of the show in general will be happy with how storylines are resolved, as well as opened up for the possibility of a second season."

Matt Richenthal is the Editor in Chief of TV Fanatic. Follow him on Twitter and on Google+.

Tags: Exclusives, Hart of Dixie, Interviews, Wilson Bethel
From Around the Web