Lost Girl Review: Lost Love
by Carla Day at .
What did I learn from "I Fought the Fae (And the Fae Won)?" It sucks to have loved and lost when you never should have lost the love in the first place.
The story of Sabine and Hamish's forbidden Light-Dark Fae romance magnified Bo and Dyson's lost love. At least both Sabine and Hamish continued to love each other even after being separated for 83 years.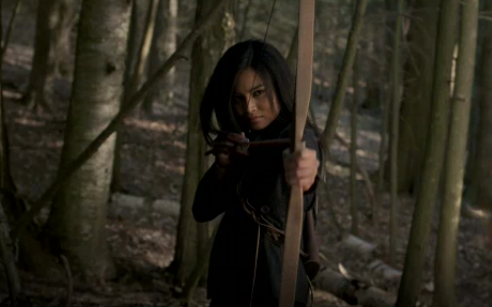 Bo and Dyson weren't that lucky. It all came to a head when Bo and Dyson finally talked about what happened. Dyson was adamant that he could never love Bo again since the Norn took it from him. He wouldn't even consider Bo's suggestion that they try and fall in love. Not good, Dyson!

If a wolf mates for life, then isn't that exactly the reason that he should try again with Bo? Eventually, he will see this, right? Kenzi seemed to be on the right path when she said that Dyson knew in his head that he loved Bo, but he couldn't feel it in his heart. How painful! Is Dyson just protecting himself the only way he can?

Poor Bo! She is the one who is left loving Dyson with no love in return. Compounding the pain, she knows that she is alone now, because he saved her life. What will she do? Will she be able to move on? Or, will she be friends with Dyson, but with the intention of finding their love again?

Bo's issues with Dyson look to be a minor problem compared to the threat made by the newly crowned The Ash. He doesn't approve of Bo's unaffiliated status. Will he force her to chose a side? And, which side would she even chose?

The conversation between Bo and The Blackthorn was most enlightening in regards to the differences between the Light Fae and the Dark Fae. They both feed on humans, because that is what their kind does. But, the Light Fae only take what they need, while the Dark Fae kill for pleasure. Bo doesn't believe in either, so how would she possibly align herself with either side. The Blackthorn called it right when he described Bo as "an obnoxious vegan."

The Ash may be a threat to Bo, but Trick was also put at risk. The Blackthorn questioned whether Trick was a simple Fitzpatrick bartender or the powerful Blood King. Now, that the secret is out about Trick's true identity, will he be a target?

He claimed that he didn't want power, but in exchange he didn't want the Council to look for Aife. Will the Council abide by this request? Not likely, which will force Trick into action.

The second season of Lost Girl has quickly created emotional turmoil for Bo and Dyson, while also setting the stage for a coming battle within the Fae world. Plus, now that Bo knows about her mother, will she search for her father?

Carla Day is a staff writer for TV Fanatic. Follow her on Twitter and on Google+.

Tags: Reviews, Lost Girl
From Around the Web