Mad Men Review: I Find Your Product Boring
by Dan Forcella at .
Many of the main players went to "Far Away Places" in an interestingly structured episode of Mad Men this week. Some left on an physical trip, others took a journey thanks to some killer drugs, and one... well for one, the place she went wasn't so much far as her act there was the furthest from what I ever expected out of her.
I'm still trying to wrap my brain around what happened here. Has Mad Men ever played with structure like this before? With three stories occurring simultaneously, but showing each one separately, this was quite the intriguing strategy. Why do you think Matthew Weiner and company decided this was necessarily the best way to plot this episode?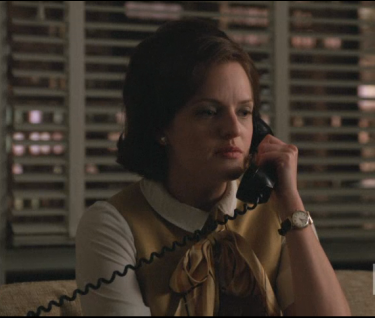 For one reason or another, it had me even more involved than normal, and "Far Away Places" left me thoroughly entertained. The one story of the three that had me a bit annoyed, however, was Don and Megan's, and it wasn't only because the video effects in the car were so bad. 

They were pretty awful, and the fake Howard Johnson's wasn't much better, but it was the constant bickering between the newlyweds that lost me early on. Whether it was over work, sherbet or the fact that Don thinks he is Megan's master, I became a bit uninterested until he just left her on the side of the road like a piece of dirt.

I liked that Megan was seriously challenging him, but Don's inability to deal with the fight was what finally caught me by surprise. I kept wondering at what point he was going to turn his car around, and if it would be too late. Sure enough it was, and the story became less interesting again. Watching Don run around town looking for Megan was all well and good, but it wasn't all that special.

What WAS special was what happened when Don returned home and found that Megan made her way back to the apartment. The former chasing after the latter, looking like he was going to tackle her, was e"special"ly awkward. I didn't know whether to feel afraid for Megan, or feel embarrassed for Don. The only thing that should have been a bigger shot to Don's ego was when Old Man Cooper called him out for being on "love leave."

Near the end of the hour, Roger Sterling announced that it will be a beautiful day, and his newfound happiness is only one of the reasons that the events he and Jane went through were some of the best of the season. Yes, I'm glad that the two finally told each other that their marriage wasn't working out, and that they decided to get a divorce, but the route they took to get there had me reeling before the conclusion ever occurred.

Between the gin bottle playing music, Roger's one puff for an entire cigarette, seeing Cooper on the money and laying on the floor with his hair up in a pink towel, I'm not sure which Roger Sterling does LSD moment was my favorite of the hour.

Unlike when Don simply hallucinated that he murdered his former lover, the major event between Roger and Jane did actually happen here. I was ready to be angry at the writers for teasing us with a Roger/Jane divorce when at first Mrs. Sterling said that the conversation never happened.

Do you know what we SHOULD be wishing never happened? Well, I could have done without Peggy going for that special treat in the middle of the movie theatre. That's not a mental image I will be able to get out of my head quite so easily.

Can we blame her for going a bit off the deep end after that blow up, though? After getting turned down yet again by Heinz, Peggy took to Raymond like she was George Costanza giving it to T-Bone. I mean, that is not something you can easily get away with, as was noted by Stan calling it suicidal.

Following her frustration release of smoking and sexing, Peggy came upon an interesting development. Michael, who began by stating that he was actually from Mars, eventually revealed that he was born in a concentration camp. I'm sure this will have a huge impact in future episodes.

Overall, "Far Away Places" was an interesting change of pace for Mad Men. I enjoyed the structural differences, and most of the content that came with them, but what did you all think of this week's episode? Was it one of the better efforts of the season? And which was your favorite Roger Sterling LSDism?

Dan Forcella is a TV Fanatic Staff Writer. Follow him on Twitter.

Tags: Mad Men, Reviews
From Around the Web